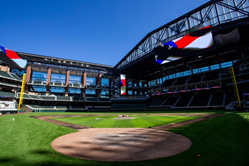 Acceptance of this field at the highest level of MLB is affirmation of the efforts of many people who helped develop this (unique) synthetic grass system
ARLINGTON, Texas (PRWEB) October 20, 2020
This year's Major League Baseball World Series will be played at Globe Life Field in Arlington, Texas, putting the the sports complex's recent installation of Shaw Sports Turf's B1K "Batting a Thousand" synthetic turf system in the spotlight.
According to the Texas Rangers, the choice to go with Shaw Sports Turf was rooted in data and supported by extensive research as it relates to player safety. Shaw used Globe Life Park in Arlington's current natural grass field as one of the benchmarks for its ongoing playability study, conducting a series of tests on that playing surface in August 2017.
In addition to the benchmarking research, Shaw Sports Turf participated in a kinesiology study with Auburn University. This study's main goal was to research how players react on certain surfaces and then use that data to tune systems for player safety and optimal performance.
The Texas Rangers installed 122,692 square feet of Shaw Sport Turf's Shaw Sports Turf's B1K Natural synthetic turf. B1K takes into account a few different testing metrics to make the Shaw Sports Turf system the closest to natural playability that you can find and can also be tuned to your field's specific needs.
This turf system is a dual fiber system comprised of Shaw's high-performance Strenexe® XD slit film and Shaw's Bolt® monofilament. The B1K natural system features Geofill, an all-natural infill made from coconut husks and fibers. This natural alternative infill feels and plays like dirt with added cooling benefits and water savings.
Rangers Executive Vice President of Business Operations Rob Matwick said: "Shaw's commitment to research and development have been second-to-none. However, its engagement with the study at Auburn demonstrated to our staff that Shaw was just as concerned about player safety as we were."
"Acceptance of this field at the highest level of MLB is affirmation of the efforts of many people who helped develop this (unique) synthetic grass system. We are grateful to those clubs that trusted and placed their confidence in Shaw Sports Turf as well as our partners Paragon Sports Constructors, Fields Inc. and others" said Territory Manager Matthew Stanley.
The first game of the MLB World Series will take place on October 20, 2020 and another Shaw Sports Turf partner, the Tampa Bay Rays, will be vying for the title.