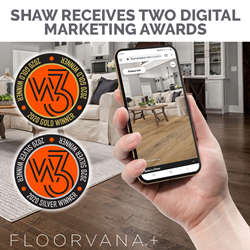 Seeing is believing - and Floorvana+ helps consumers take inspiration to the next level by leveraging augmented reality technology to essentially 'test-drive' new flooring before they commit to purchase.- Misty Hodge, Director of Digital Marketing, Shaw Residential
DALTON, Ga. (PRWEB) October 15, 2020
Shaw Industries Group, Inc. (Shaw) recently received Gold and Silver honors in the 15th Annual w3 Awards, announced by the Academy of Interactive and Visual Arts earlier this month.
Receiving over 3,000 entries from across the globe, the w3 Awards illuminate creative excellence on the Web by honoring outstanding Websites, Marketing, Video, Mobile, Social, and Podcasts developed by some of the best digital content creators across multiple industries.
"Seeing is believing - and Floorvana+ helps consumers take inspiration to the next level by leveraging augmented reality technology to essentially 'test-drive' new flooring before they commit to purchase," says Misty Hodge, director of digital marketing for Shaw Residential. "With this new website and mobile innovation, consumers can upload a picture from their own home or business and digitally drop in our products, testing different product categories, colors, installation patterns and more. Our retail customers have also been able to rely heavily on Floorvana+ as a selling tool during shutdowns and virtual consultations. We couldn't be more proud to accept these 2020 w3 awards, and to be recognized alongside other winning brands like Google, LEGO, and Geico."
Floorvana+ is integrated into the consumer experience across all residential brand websites. Visit each website (Anderson Tuftex, COREtec, Philadelphia Commercial and Shaw Floors) for the full experience or visit Floorvana+ directly at floorvanaplus.com. To view a complete list of the 2020 w3 Award Winners, please visit w3award.com.
About Shaw Industries
Shaw Industries Group, Inc. is more than a flooring company – we are more than 20,000 people united in our vision of creating a better future for our customers, for our people, for our community and for our company. We provide carpet, resilient, hardwood, tile & stone, laminate, synthetic turf and other specialty items for residential and commercial markets worldwide. We meet diverse customer needs through an expansive portfolio of brands, including: Anderson Tuftex, COREtec, Patcraft, Philadelphia Commercial, Shaw Contract, Shaw Floors, Shaw Sports Turf, Southwest Greens, USFloors and more.
Headquartered in Dalton, Georgia, Shaw is a wholly owned subsidiary of Berkshire Hathaway with more than $6 billion in annual revenue and representation throughout the U.S., as well as in Australia, Belgium, Brazil, Canada, Chile, China, France, India, Mexico, Singapore, United Arab Emirates, and the United Kingdom. For more information about our company brands, operations and community involvement, or to join our industry-leading team, visit http://www.shawinc.com.
About w3 Awards
The w3 Awards illuminates creative excellence on the Web, and recognizes the creative and marketing professionals behind award winning Websites, Video, Marketing, Mobile, Social and Podcasts. Simply put, the w3 is the leading digital competition that recognizes the biggest agencies, the smallest firms, and everyone in between. Small firms are as likely to win as Fortune 500 companies and international agencies. The w3 Awards is sanctioned and judged by the Academy of Interactive and Visual Arts, an invitation-only body consisting of top-tier professionals from a "Who's Who" of acclaimed media, advertising, and marketing firms. Please visit http://www.aiva.org for a full member list and additional information. For more information about the w3 Awards, please visit http://www.w3award.com, email The w3 Awards at info@w3award.com or call 212-675-3555.
# # #