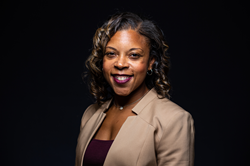 "Dr. Cooper-Gibson's impressive academic credentials, extensive professional experience and unwavering commitment to student success make her the ideal candidate for this position," said Seton Hall University President Joseph E. Nyre.
SOUTH ORANGE, N.J. (PRWEB) August 16, 2019
Shawna Cooper-Gibson, Ed.D., a national leader in academic, co-curricular and multicultural student development, has been appointed Vice President of Student Services at Seton Hall University.
Cooper-Gibson currently serves as the Assistant Provost for Student Academic Services at Loyola University Chicago and will officially begin her new position on October 14, 2019.
"Dr. Cooper-Gibson's impressive academic credentials, extensive professional experience and unwavering commitment to student success make her the ideal candidate for this position," said Seton Hall University President Joseph E. Nyre. "She will play a key leadership role in furthering the University's mission of providing exceptional opportunities for student learning, growth, reflection and service in our global society."
The Vice President for Student Services serves as a member of the Executive Cabinet and provides critical leadership and guidance to facilitate decision making in all matters relating to student welfare. At Seton Hall, Cooper-Gibson will oversee a wide array of student support and academic programs including the Academic Resource Center, Career Center, Educational Opportunity Program (EOP), Freshman Studies, Health Services, Housing and Residence Life, and Public Safety and Security.
"I look forward to joining the Seton Hall community and building upon the rich tradition of Catholic education that exists here," said Cooper-Gibson. "All of the people I met while visiting campus were extremely welcoming and I could not have asked for a better experience. I firmly believe that for today's college students to be successful, it requires close collaboration between divisions, offices and all members of the University community. I am excited to strengthen and expand upon those collaborations."
As Assistant Provost at Loyola University Chicago, Cooper-Gibson oversees academic support services including First and Second Year Advising, the Career Development Center, TRiO Student Support Services and academic assistance programs. She also serves as Co-Chair of the Council for Student Success and a Clinical Assistant Professor in the School of Education as well as assisting the university in reaching its retention and student success goals.
She previously served as the Dean of Students of the School of Social Services Administration at the University of Chicago, Director of African American Student Affairs at Northwestern University, Assistant Director of the Student Activities Office at the Massachusetts Institute of Technology and Assistant Dean of the School of Communication at Loyola University Chicago.
Cooper-Gibson earned a doctoral degree of education from Boston University, master of education degree from National Louis University and bachelor of science degree from University of Illinois.
Cooper-Gibson was selected following a national search led by a committee that included representatives from the student body, priest community, faculty and administration. Vice President for Enrollment Management Alyssa McCloud served as chair of the search committee.
Robin Cunningham, Associate Vice President and Dean of Freshman Studies, will continue to serve as Interim Vice President for Student Services until Cooper-Gibson's arrival.
"Dr. Cooper-Gibson is an exceptional leader at this exceptional time in Seton Hall's history," noted President Nyre. "As her proven track record and vast experience demonstrates, she is a student-focused leader and will surely advance the Seton Hall mission. We look forward to welcoming her to our university community."
About Seton Hall University
One of the country's leading Catholic universities, Seton Hall has been showing the world what great minds can do since 1856. Home to nearly 10,000 undergraduate and graduate students and offering more than 90 rigorous academic programs, Seton Hall's academic excellence has been singled out for distinction by The Princeton Review, U.S. News & World Report and Bloomberg Businessweek.
Seton Hall embraces students of all religions and prepares them to be exemplary servant leaders and global citizens. In recent years, the University has achieved extraordinary success. Since 2009, it has seen record-breaking undergraduate enrollment growth and an impressive 110-point increase in the average SAT scores of incoming freshmen. In the past decade, Seton Hall students and alumni have received more than 30 Fulbright Scholarships as well as other prestigious academic honors, including Boren Awards, Pickering Fellowships, Udall Scholarships and a Rhodes Scholarship. The University is also proud to be the third most diverse national Catholic university in the nation.
During the past five years, the University has invested more than $165 million in new campus buildings and renovations. And in 2015, Seton Hall launched a School of Medicine as well as a College of Communication and the Arts. The University's beautiful main campus in suburban South Orange, N.J. is only 14 miles from New York City — offering students a wealth of employment, internship, cultural and entertainment opportunities. Seton Hall's nationally recognized School of Law is located prominently in downtown Newark. The University's Interprofessional Health Sciences (IHS) campus in Clifton and Nutley, N.J. opened in the summer of 2018. The IHS campus houses the University's College of Nursing, School of Health and Medical Sciences and the Hackensack Meridian School of Medicine at Seton Hall University.
For more information, visit http://www.shu.edu.