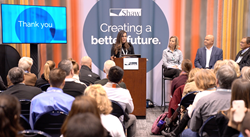 At Shaw, we fundamentally believe everyone should have access to safe, sustainable products for their homes and workspaces.
DALTON, Ga. (PRWEB) November 30, 2018
For the second year in a row, Shaw Industries Group, Inc. (Shaw) hosted an Education Lab as part of the annual Greenbuild® conference and expo. Education sessions inside the Shaw Education Lab included speakers from The Home Depot, KB Home, The International WELL™ Building Institute, Health Care Without Harm, SERA Architects, GIGA, HKS, Brightworks Sustainability, and UCSF's Program on Reproductive Health & the Environment.
Echoing the 2018 Greenbuild theme of "Human x Nature," the thought leadership and education Shaw shared focused on the intersection of people and the planet in the built environment.
"At Shaw, we fundamentally believe everyone should have access to safe, sustainable products for their homes and workspaces," noted Susan Farris, vice president of sustainability and corporate communications at Shaw. "Our decades-long commitment to Cradle to Cradle's rigorous third-party certification process - including material health assessment - is evidence of that."
In Shaw's operations and supply chain, the company uses a rigorous methodology for assessing material health, based on understanding and evaluating the ingredients that go into its products.
"We are proud that almost 90 percent of the products we manufacture are now Cradle to Cradle CertifiedTM," Farris continued. "That ongoing focus combined with the launch of Shaw's patent-pending Sound Advisor® tool for acoustics earlier this year are a testament to our keen focus on understanding how the spaces where we live, work and spend so much of our time influence people."
About Shaw Industries
Shaw Industries Group, Inc. is more than a flooring company – we are 22,000 people united in our vision of creating a better future for our customers, for our people, for our community and for our company. We provide carpet, resilient, hardwood, tile & stone, laminate, synthetic turf and other specialty items for residential and commercial markets worldwide. We meet diverse customer needs through an expansive portfolio of brands, including: Anderson Tuftex, COREtec, Patcraft, Philadelphia Commercial, Shaw Contract, Shaw Floors, Shaw Hospitality, Shaw Sports Turf, Southwest Greens, USFloors and more.
Headquartered in Dalton, Georgia, Shaw is a wholly owned subsidiary of Berkshire Hathaway with nearly $6 billion in annual revenue and representation throughout the U.S., as well as in Australia, Belgium, Brazil, Canada, Chile, China, France, India, Mexico, Singapore, United Arab Emirates, and the United Kingdom. For more information about our company brands, operations and community involvement, or to join our industry-leading team, visit http://www.shawinc.com.
GREENBUILD is a registered trademark of Informa Exhibitions U.S. Construction & Real Estate, Inc.
Cradle to Cradle CertifiedTM is a certification mark licensed by the Cradle to Cradle Products Innovation Institute.