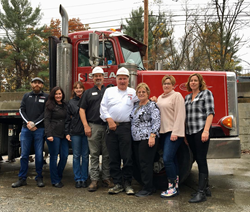 AMESBURY, Mass. (PRWEB) November 25, 2019
This month marks a very special occasion for Shea Concrete Products - and it's not just the big November holiday that has Shea feeling thankful.
Last month (October), Shea Concrete was honored to host a celebration of their 70th anniversary, marking seven decades since founder Ernie Shea first planted the seed of what would become Shea Concrete, operating out of his family's backyard starting in 1949. Since then the operation has expanded, the Shea staff has put in thousands and thousands of hours of hard work and dedication, and the company has grown into "New England's premiere precaster."
Now, 70 years later, Shea has been thrilled to celebrate and to welcome all of their friends, families, and industry professionals into their four production facilities to mark the occasion.
Shea's 70th Anniversary Celebration at the company's Amesbury Headquarters on Nov. 1 closed out a powerful week of recognition and celebration, and coincided with a special event Shea hosted alongside the National Precast Concrete Association (NPCA) called "Precast Days." This was a chance for Shea to open their doors to explain the precast manufacturing process and demonstrate the equipment, technology, and engineering expertise that goes into making Shea's resilient precast concrete products.
Shea set aside three days in October and one in November to welcome visitors to each of their precast concrete production facilities. After hosting industry experts for hard-hat tours and food truck celebrations of our Rochester, MA; Nottingham, NH; and Wilmington, MA facilities, Shea capped off the first annual "Precast Days" with a major celebration at their Amesbury, MA headquarters.
As proud as the Shea Concrete Products team is of all the hard work, determination, and innovation their team members have put into growing the business throughout our history, having all of their friends and families together to mark the occasion was truly something special.
Shea would like to sincerely thank everybody who came out to help make their 70th Anniversary Celebration and first annual "Precast Days" a success—and the Shea team is already looking forward to everything the next 70 years has in store for Shea Concrete Products.