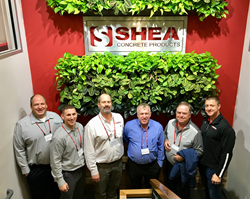 "Having a room full of engineers, contractors, and producers to discuss today's obstacles, as well as solutions is a great way to keep the ball moving forward. I would highly suggest anyone that is involved with this industry to attend one of these great events." – Jim Carreira (Sales, BASF Corp.)
AMESBURY, Mass. (PRWEB) May 20, 2019
On April 30th, Shea Concrete Products of Amesbury, MA hosted its 8th Technical Engineering Seminar within the training room of their new precast concrete headquarters on Haverhill Road for the third of their 2019 Technical Engineering Seminar Series.
Drawing a crowd of fifty-five construction, engineering, and precast professionals, Shea Concrete's April seminar offered a full-day of technical learning from a wide-range of industry-leading speakers.
"5.0 System Inspector (SI) Training Contact Hours (TCH's)" were approved for all attendees by the Massachusetts Title 5 Onsite Advisory Committee, on behalf of MassDEP. Along with the 5.0-TCH's this seminar was also approved for 6.0-Credit Hours by the NHDES Subsurface Systems Bureau for On-Site/Septic Designers/Installers and 5-Professional Development Hours (PDH's) helpful for Professional Engineers to keep up with continuing education requirements. With this seminar being offered at no cost to attendees it offered a BIG Return-On-Investment!
"I thoroughly enjoyed presenting as well as being an attendee at the seminar. It's always a great experience when I can share information from an admix standpoint, with many other levels of the precast manufacturing and construction process. Having a room full of engineers, contractors, and producers to discuss today's obstacles, as well as solutions is a great way to keep the ball moving forward. I would highly suggest anyone that is involved with this industry to attend one of these great events." – Jim Carreira (Senior Sales Representative - BASF Corporation)
Shea Concrete also offered guests a tour of their precast concrete manufacturing facility and headquarters. The new headquarters, which opened in January 2018, was designed with LEED-certification in-mind by utilizing a wide range of sustainable materials and practices, including a roof-mounted solar panel array, sustainable precast concrete construction, brownfield and wastewater considerations, and steps to minimize construction waste throughout the construction process.
"Thank you for a very informative seminar and one of the best that I have been to. The tour of the plant was very educational! It is nice to see that Ernie left a great business to an outstanding staff and employees that expanded the business and keep looking forward to improve and educate future generations. Keep up the outstanding work and thanks again." - Barry Tisbert (SRF Excavation)
Shea Concrete Products would like to thank all speakers and attendees for making the seminar a success, and looks forward to hosting more successful seminars this calendar year!