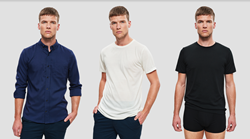 Our products are so comfortable that men will want to wear them for days in a row, and because of the benefits of merino wool and its natural odor resistance - they can!
SULZBERG, Germany (PRWEB) October 30, 2019
Today, men can build a better wardrobe with SHEER's new line of merino wool basics for men. Launching on Kickstarter, this line offers a classic Oxford shirt, modern crewneck t-shirt and durable boxer briefs.
Taking the incredible properties found in merino wool that have made it popular for use in sportswear, SHEER gives it new purpose: stylish everyday clothing. Merino wool's fibers are wrinkle and odor resistant, moisture wicking and soft-to-the-touch making it the perfect material upon which to build a wardrobe.
"We set out to reinvent the basic wardrobe for men," said Sebastian Gartmann, co-founder of SHEER. "Our products are so comfortable that men will want to wear them for days in a row, and because of the benefits of merino wool and its natural odor resistance - they can!"
SHEER launches with an emphasis on quality, transparency and sustainability. Each garment is developed using fabrics exclusive to the brand. SHEER's production model ensures quality from sheep to shirt beginning with the ethical treatment of the merino sheep and the land they live on. By using sustainable raw materials, recycling worn out product and committing to manufacturing methods that reduce impact on the planet, SHEER makes clothing that look good and do good. Furthermore, each item is traceable and produced by expert craftsmen throughout Europe - yarn is spun in Biella, Italy, fabrics are produced by specialists throughout Germany, and garments are cut and sewn in family run factories in Portugal.
Every item in the line is made from the finest 16.5-17.2 micron merino wool. The garments are naturally odor-resistant, wrinkle-resistant, stain-resistant, color proof and moisture wicking. Ready for anything the day brings, SHEER's line of basics are breathable, soft and only get softer with each wash and wear. SHEER garments are built to last.
The Oxford shirt is available in white and navy and is the perfect tailored shirt that every man needs in his wardrobe. French cuffs, a button down collar, mother of pearl buttons and a slight tailored design give this mid-weight Oxford cloth shirt a sleek look that's perfect for work or play. The modern t-shirt crewneck is available in black, white and navy and offers the ultimate in comfort and style. Unlike other merino t-shirts, SHEER features a ribbed neckline which ensures a clean line and crisp appearance. Mid-length sleeves and a tailored trunk give this shirt a sophisticated style that's perfect for dressing up or down. Both the classic Oxford and modern t-shirt crewneck are available in extended sizing - small through double extra large - in standard and long-torso versions ensuring that taller men can still enjoy a tailored fit.
SHEER's durable boxer briefs feature an elastic waistband, flat seams, a double-lined cup for maximum comfort and support, and are available in black and navy. Made in Lithuania, these briefs are available in sizes S-XXL.
SHEER's line of basics is available to pre-order at a discount from future retail prices at pr.go2.fund/sheer.
About SHEER
SHEER believes in less, but better clothing. The team has honed their focus on engineering timeless basics for men, made from the finest natural fibers. SHEER clothes are designed to be around forever. In producing quality basics, men can create minimalist wardrobes with clothing that lasts. SHEER has partnered with the best craftsmen in Europe, and sources only natural raw materials for its garments. The result is quality consumers can see, touch and enjoy wearing. SHEER also prides itself on true transparency in the manufacturing process. Every garment has a story from raw materials, to construction to pricing - and all of that is shared. For more information, visit https://sheermerino.com/.