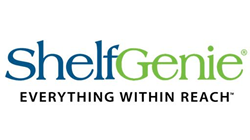 "This is a rich and vibrant region where people put down roots and want to stay in their homes, and more seniors choose to age in place. We're excited to provide quality solutions that help homeowners remodel their current homes to fit their needs." - Jeff Yoder
ATLANTA (PRWEB) October 19, 2020
ShelfGenie, the company dedicated to improving lives through custom shelving and in-home solutions, is growing its presence in the Mid-Atlantic United States. The company is proud to announce the addition of ShelfGenie of Metro DC.
The Metro DC location is owned and operated by business entrepreneur Jeff Yoder. Before joining ShelfGenie, Jeff spent 20 years working as a federal government contractor with various organizations, spending most of his time supporting the U.S. Department of Education. Most recently, he was the COO of a Service-Disabled Veteran-Owned Small Business (SDVOSB) consulting firm.
Jeff and his family give back to their community through the non-profit organization, Alice's Kids. The group provides short-term financial relief to students and families with immediate needs. Proceeds of each sale at ShelfGenie of Metro DC will be donated to this charitable cause.
"My experienced team is excited to bring the ShelfGenie brand to the Metro DC area," said Jeff. "This is a rich and vibrant region where people put down roots and want to stay in their homes, and more seniors choose to age in place. We're excited to provide quality solutions that help homeowners remodel their current homes to fit their needs."
Andy Pittman, Brand President of ShelfGenie, is confident Jeff will be an excellent ShelfGenie franchise owner.
"ShelfGenie is committed to building a best-in-class team and developing an industry-leading experience for all of our clients," said Pittman. "Jeff has a solid business background and understands the needs of his community. I'm confident he can take on any challenge that comes his way. We're excited to have him as part of the ShelfGenie team."
ShelfGenie's custom Glide-Out shelves are recognized as the best way to eliminate common frustrations in the home, but it's the company's implementation that has made it an industry leader. With free, at-home consultations, and a continued professional relationship throughout the entire process, ShelfGenie continually receives accolades in customer satisfaction.
Jeff's team includes Marketing Manager Asfandyar Ludin, who joins ShelfGenie of Metro DC with an impressive list of professional experience ranging from sales to franchise management.
"Asfandyar and I clicked right away," says Jeff. "He's a passionate and motivated businessperson who connects well with customers and employees. Part of my vision for the success of this business is assembling the best team to drive sales and growth right from the start. Asfandyar is a key part of that team."
Since 2000, ShelfGenie has been turning its clients' frustrations with their homes into happiness. They offer the top-quality Glide-Out shelves to declutter and organize the entire home, from kitchen cabinets and pantries to bathrooms and closets.
To request a free design consultation, call Jeff or Asfandyar at (571) 402-4787 or visit ShelfGenie of Metro DC at: https://www.shelfgenie.com/locations/metro-dc/.
For more information about ShelfGenie franchise opportunities, please visit https://www.shelfgenie.com/own-a-shelfgenie-franchise/.
ABOUT SHELFGENIE:
ShelfGenie, a Neighborly company, is the nation's leading custom shelving and home improvement solutions franchise. Founded in Richmond, Virginia, in 2000, ShelfGenie has grown to 160 territories in the U.S. and Canada. ShelfGenie is the first and only franchise offering high impact shelving and home improvement solutions with a purpose: to transform clients' lives by designing and implementing custom home solutions that put everything within reach.
ShelfGenie designs, builds, and installs Glide-Out™ Shelving Systems. Our innovative shelving is custom-built to retrofit existing cabinets, resulting in perfectly placed shelves that glide in and out with just the touch of your fingers. With our system, cabinets are organized; storage is accessible, efficient, and clutter-free. Glide-Out Shelving works in virtually every cabinet and pantry in the home and is beautiful and highly durable. From the kitchen to the bathroom to the garage, ShelfGenie does it all.
ShelfGenie is a home-based business model providing a niche product within a mature industry. We have highly effective tools and resources in place that allow franchisees to focus on scaling their business. Our franchise model allows the owner to focus on marketing and sales while leveraging designers, installers, and our centralized Business Support Center to handle most day-to-day activities of the business.