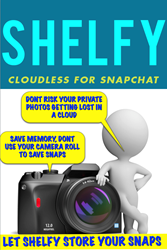 The best concept to hit the App Store in years
Nashville, TN (PRWEB) April 08, 2014
Shelfy-Cloudless for Snaps is the total "One Stop Shop" for Snapchat. Tiny "Shelfy" characters will offer users an element of lighthearted fun acting as folders for saving and organizing Snapchat saved pics and videos. Full Snapchat functionality plus a comprehensive photo manager/editor and organizational folders system for storage place this app into a class of its own.
The app introduces an alternative to saving pics from Snapchat to the device camera roll. In one article from Macworld, camera roll storage is cited as the primary consumer of device memory. Instead of draining device memory, the Shelfy app saves all photos to folders within the app for recall at any time by the user. The app also provides the user with three irresistible little characters that the user can drag and drop any photo they choose into these "Shelfys" for storing. User can tap any of the three "Shelfys" to reveal all of the photos that have been placed there previously.
The unique Shelfy concept and the 50 different "Shelfys" to choose from, present an enhanced user experience for users as they navigate through all of the standard areas of Snapchat just as if they were in the native apps. The Shelfy character selection includes everything from tiny ninja Shelfy characters to cowboy Shelfies.
The Shelfy-Cloudless for Snaps app will debut on the App Store on Thursday, April 10th for the price of .99 cents. Also, there will be an Instagram version of the Shelfy app released on the same day called Shelfy-Cloudless for Instagram.
BadApp Studios is based in Nashville, TN and has been committed to developing apps that are designed to preserve device memory and keep the native camera roll free of downloaded photos coming from other apps. BadApp Studios currently manages Snap Vault for Snapchat, as well as the recently released, SnapBase for Snapchat and InstaDots for Instagram.