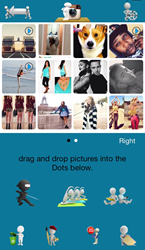 The little shelfy People within the app add an entirely new element of fun to the app store.
Nashville, TN (PRWEB) April 30, 2014
Selfies have been the latest craze among Instagram users. By definition, they are pictures taken by the user to send out directly to other users or post to their general Instagram feed. In a recent article by The New York Times, the new selfie genre of apps are ranked acceding to popularity. The recent surge in selfie popularity has paved the way for a new sub genre for saving these selfies that the masses are passing around. Shelfy for Instagram has been the app that is leading the charge for these apps.
Shelfy for Instagram is an "all in one" Instagram app that features navigation through the actual Instagram API so it seems like the user is functioning within the Instagram app. On top of offering full Instagram functionality, the app has tiny characters located where standard navigation buttons would be located in a typical app. These characters represent buttons that help lead the user through the app. The user can, at any time, select one or unlimited Instagram photos to save in a proprietary gallery view screen. This gallery view will show the photos that the user has selected to save and also displays three "Shelfy" characters that represent folders for storing and organizing saved photos. These three characters are interchangeable with 47 other various characters the user can choose from. Once photos are placed into the Shelfy folders, users can recall these photos at any time to edit, repost, like, follow, or share on Instagram, Facebook, messaging, email, or airdrop. Shelfy for Instagram has just been released on the app store for .99 cents with in app purchase option to unlock all of the Shelfys for use with the folders gallery.
BadApp Studios is based in Nashville, TN and has been committed to developing apps that are designed to preserve device memory and keep the native camera roll free of downloaded photos coming from other apps. BadApp Studios currently manages Snap Vault Pro for Snapchat, as well as the recently released, SnapBase, and InstaDots for Instagram. Shelfy for Snapchat and Shelfy for Instagram are the latest creation for Bad App.