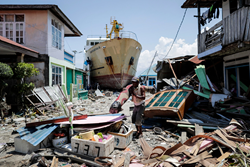 "Our highly trained and experienced Response Team is committed to finding a way to help," said Kerri Murray, President of ShelterBox USA. "We will do all we can to give families left out in the elements a space to feel safe and protected and to start rebuilding their lives."
SANTA BARBARA, Calif. (PRWEB) October 05, 2018
A ShelterBox Response Team is on the way to Indonesia after a 7.5 magnitude earthquake and tsunami with 20-foot waves devastated the island of Sulawesi. More than 1,400 people have died and an estimated 66,000 homes have been damaged or destroyed.
The organization is in contact with the Indonesian government, local Rotary contacts, and other organizations to understand how to best help families who have lost everything. Access to the affected area is severely restricted and the full extent of the destruction and damage to homes is not yet fully understood.
"Our highly trained and experienced Response Team is committed to finding a way to help," said Kerri Murray, President of ShelterBox USA. "We will do all we can to give families left out in the elements a space to feel safe and protected and to start rebuilding their lives."
ShelterBox has aid stored nearby in Malaysia and are working with our contacts to understand any importation restrictions and how to get it to families in Indonesia.
Essential items ready to go include tents, ShelterKits, water filters and blankets.
This is the latest in a series of earthquakes to hit Indonesia recently. ShelterBox currently has a team on the Indonesian island of Lombok, where the organization has been responding for the last month, helping families recover from the 6.9 magnitude earthquake which hit in August and left 20,000 people homeless.
ShelterBox USA has a designated fund for the response to the earthquakes and tsunami in Indonesia. If the organization receives more funds than needed for this response, the excess will be used to support our response to other disasters in Southeast Asia.
In addition to Indonesia response, ShelterBox is also helping families recover after Super Typhoon Mangkhut devastated homes in the Philippines, and in Kenya and Ethiopia where flooding has made thousands of families homeless. ShelterBox is also working in Syria, Iraq, the Lake Chad Basin and Somaliland.
To volunteer, fundraise, or make a donation, visit http://www.shelterboxusa.org or call (941) 907-6036. Legacy giving and corporate giving options are available as well. ShelterBox is accepting designated donations for Typhoon Mangkhut. ShelterBox USA is a 4-Star rated charity by Charity Navigator and has Platinum status from GuideStar.
About ShelterBox
Since 2000, ShelterBox has provided shelter, warmth, and dignity following more than 300 disasters in over 100 countries. ShelterBox responds urgently to earthquake, volcano, flood, hurricane, cyclone, tsunami, or conflict by delivering boxes of essential shelter, aid and other lifesaving supplies. Each iconic green ShelterBox contains a disaster relief tent for an extended family, blankets, a water filtration system, emergency lighting, and other tools for survival. ShelterBox USA is based in Sarasota, Florida and Santa Barbara, California.
ShelterBox is an official Project Partner of Rotary International. Tax deductible donations to the organization can be made at http://www.ShelterBoxUSA.org or by calling (941) 907-6036.
###