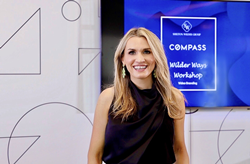 I'm happy to share my tips and tricks with my colleagues because even if they do the exact same topics for their videos, it will still be unique to them. Clients connect with us because we share who we are and our personalities.
Beverly Hills, CA (PRWEB) February 29, 2020
Shelton Wilder is kicking off her new Wilder Ways Workshop on Video Branding. Shelton Wilder knows first-hand the power of video and the impact it has on an agent's real estate business.
Just over three years ago, Shelton Wilder launched her Real Estate Career, and in 2019 alone exceeded $40 million in sales. She brings a fresh approach to a somewhat stale industry by engaging with her clients on Instagram, a tool she says is extremely powerful and can be directly linked to new listings, customers and sales, for her and her growing team at The Shelton Wilder Group at Compass. She also actively engages with YouTube and Facebook where she shares her fresh content and is reachable by new and existing clients alike. She communicates 24/7 with her clients via text, call, Instagram DM and/or email, whichever they prefer, facilitating smoother transactions and happy customers. She prides herself on being available and communicating consistently with her clients.
Shelton recently launched a powerful video workshop for Compass agents so she can share the tools that have helped build her personal and team brand. This 2-part series where agents are given a step-by-step process for incorporating video into their daily real estate lives is Shelton's way of sharing in her recent success.
Shelton says, "I'm happy to share my tips and tricks with my colleagues because even if they do the exact same topics for their videos, it will still be unique to them. Clients connect with us because we share who we are and our personalities. While there are many technical sides to real estate, it will always be a people business, specific to each individual. No deal is ever the same. I'm honored to share so I can help others expand and grow their business."
For three years straight, Shelton has consistently launched a weekly "Wilder Wednesdays" video on Instagram, with topics ranging from "How to secure a loan!" to "How to stage a property!" This has led to the organic growth of her community on the platform, which currently boasts 27.7k followers and growing.
"Consistency is key. I have built my Instagram following organically by continuing to deliver high-quality content on my feed week after week. For me, real estate is so much more than just the sale. It's about educating potential buyers and sellers about best practices that can lead to success! I am passionate about helping and empowering my clients. I remain positive in all scenarios and get the job done!"
In 2018 Shelton launched The Shelton Wilder Group, a team of talented women leading the field. Each of her team members has also learned to embrace the power of social media in their work. This young, dynamic team of professionals is nimble and not ready to settle. They over-deliver for their savvy clients.
Shelton and her team boast impressive sales growth year over year. Their 2017 to 2018 sales growth was 87.5%, and their 2018 to 2019 was an impressive 167%, ending out the year at over $40 million in sales. Their goal for 2020 which they are on-track to exceed is $100 million in sales. Shelton has had numerous repeat clients over her three-year career, all of whom applaud her customer service and attention to detail. A recent listing client who found Shelton on Instagram left the following rave review on Zillow:

"It is impossible to refer to Shelton Wilder as merely a realtor. Her insight, creativity, commitment, and marketing intelligence have gone so far beyond any other realtor I've ever worked with -- and there have been quite a few in my lifetime. Shelton is, in a word, brilliant. She has boundless talent in what she does and has brought selling houses to an entirely different level altogether. With regard to my house, she took it over from another realtor who had let it sit on the market for 3 months. Shelton had a vision of how my house would sell – quickly and above list price -- and she brought her vision to fruition. My house was sold by the end of the day of the first open house. Seriously. Who does that? This was a house that, although people loved it, was going nowhere for 3 months. Shelton made my house shine, and she knew how to market it and create renewed interest. Buyers and sellers alike respond positively to Shelton because she is so optimistic, cheerful, responsive and – as opposed to many other realtors – honest. I pat myself on the back that I was smart enough to hire Shelton when I had lost all hope. Shelton can sell your house – I promise you that! If I could go into business with her, I would. Anyone should. As I have told Shelton, she could rule the world. And I hope she does! We'd all be luckier for it!" said a recent Zillow testimonial from her seller, who originally found Shelton on Instagram!
The Shelton Wilder Group was recently honored as the official listing agent representing the extended stay villas and signature suites at the Peninsula Beverly Hills. The Peninsula Hotels was recently the first hotel to achieve the highest possible Five-Star status across all ten of its hotels, as announced by Forbes Travel Guide in 2019. Please visit http://www.sheltonwilder.com/peninsula for the special Shelton Wilder Group pricing and more information on the suite life.
About Shelton Wilder
A Los Angeles native for 13 years, Shelton Wilder's knowledge of the local schools, neighborhoods, and subdivisions is accentuated whenever she assists her clients in achieving their real estate goals. A veteran entrepreneur with many years of experience serving the needs of affluent clientele, she has a talent for negotiating and marketing, as well as a complex understanding of real estate and customer service. She specializes in residential and commercial real estate in Malibu, Santa Monica, Beverly Hills and Pacific Palisades, making exceptions to travel to other areas where her clients have interests. She launched her team The Shelton Wilder Group in 2018, a talented group of realtors who have a fresh approach to real estate. The Shelton Wilder Group can be reached by calling or texting 310-997-7059, or emailing Shelton(at)sheltonwilder(dot)com.
About COMPASS
Compass is a real estate technology company with a powerful end-to-end platform that supports the entire buying and selling workflow. We deliver an incomparable experience to both real estate professionals and their clients all in service of the Compass mission: to help everyone find their place in the world. Founded in 2012 by Ori Allon and Robert Reffkin, Compass operates in 30 regions with over 90 offices across the United States including: Atlanta, New York City, San Francisco, Los Angeles, Orange County, San Diego, Chicago, Boston, Seattle, Washington, D.C., Dallas, Philadelphia, Aspen, The Hamptons, Miami, Philadelphia, Westchester, Greenwich, Naples, Santa Barbara, and Marin.
For media inquiries, please contact:
Kelley Weaver - Melrose PR
Kelley(at)melrosepr(dot)com
310-260-7901