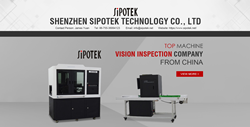 SHENZHEN, China (PRWEB) October 03, 2020
Shenzhen Sipotek, a leading machine vision inspection system manufacturer, today announced the addition of new CCD visual inspection machines to their inventory. CCD visual inspection machines are used to determine the general integrity status of a part or component, including the detection of cracks, wear, corrosion, erosion, or any physical damage to its surface.
"We are in an intensely competitive category, so we are always pushing ourselves to do better," said a spokesperson for the company. "As a result, we invest significantly in R&D and continuous skills improvement for our people-along with extensive efforts to improve our own manufacturing quality." Sipotek is renowned for the quality of its Visual Inspection Machine portfolio and CCD visual inspection machines. The company employs over 70 senior R&D personnel, coming from global corporations such as Huawei, Byd, Foxconn, and other first-class manufacturing enterprises.
Shenzhen Sipotek offers a line of automatic optical sorting machine that can also be used to do automatic sorting. Usually, an optical sorting machine compares objects to a user-defined accept/reject criterion. These types of machines are used in a wide variety of manufacturing contexts as well as in agriculture. Automated optical sorting machines can be used to separate different grades of glass, paper, plastic, and aseptic containers from a waste stream or from each other using a variety of sensing methods. The company offers optical sorting machines that are designed to offer users flexibility over a wide range of parameters that can be measured as well as sorting machines that are designed specifically for certain objects.
Shenzhen Sipotek is able to develop visual inspection machines using the most advanced optical technology available on the market. The company manufactures products that are capable to ensure quality control infinitely more precisely than the one offered by the human eye. Their visual inspection machines perform checks on a wide range of materials, from rubber to ceramic, from leather to wood, and others. They are able to ensure complete and meticulous checks over a wide dimensional range to pieces that measure from 0,5 mm to 190 mm.
Visual inspection machine systems usually consist of a number of cameras that are sometimes mounted over assembly lines to inspect products, capture data, read labels, direct products, and more, all without human intervention. These machines are usually used in the fields of quality control and product counting. The advancement of visual inspection machines has automated some of the most boring industrial jobs and has allowed human employees to get jobs that are more appealing to them.
About Shenzhen Sipotek Technology Co., Ltd
Founded 15 years ago, Shenzhen Sipotek Technology Co., Ltd has specialized in the manufacturing of professional automatic visual inspection machines, automated vision inspection systems, industrial machine vision cameras, automated optical inspection machines, optical sorting machines, and others. Their systems are practical, easy to use, and simple to maintain. The company offers the best products on the market for affordable prices. They are known as global specialists in high-performance machine vision and vision inspection systems. Sipotek's systems combine leading-edge technology and high-performance image processing to resolve a wide variety of automated inspection, identification, and quality control problems.
For more information, visit https://www.sipotek.net
CONTACT INFO:
Name: James Yuan
Email: info@sipotek.net
Organization: Shenzhen Sipotek Technology Co., Ltd
Address: 11 Building, Gangzi Industrial Park, Shajing Furong Industrial Zone, Baoan, Shenzhen, China
Phone:+86- 18666216027