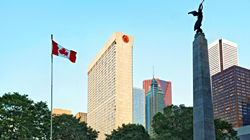 "Noventri delivered an outstanding digital reader board and door card solution for our hotel. Our staff is very happy with Noventri and the automated events system." — Sergio Meza, Director of Food & Beverage, Event Management, Sheraton Centre Toronto Hotel
SMITHSBURG, Md. (PRWEB) July 24, 2019
The Sheraton Centre Toronto Hotel is Canada's largest and most prestigious hotel and convention facility, providing convention-attendees and travelers of all types an upscale and one-of-a-kind hospitality experience. Situated in Toronto's downtown core, the hotel's largest event space can accommodate 3,500 guests.
To facilitate multiple groups with thousands of daily attendees, this Brookfield Asset Management property needed an effective and reliable readerboard, wayfinding, and door card solution that could integrate with the Marriott CI/TY property management system. Noventri was tapped to provide content and support for 14 daily event screens, 18 wayfinding screens, and 55 screens beside room doors (door cards). The Noventri system delivers a fully-automated experience, integrated with the Marriott CI/TY property management system.
"Noventri delivered an outstanding digital reader board and door card solution for our hotel. Our staff is very happy with Noventri and the automated events system." — Sergio Meza, Director of Food & Beverage, Event Management, Sheraton Centre Toronto Hotel
The real power in this solution comes from automation. The Noventri system dynamically displays group names, event times, room names, and floor locations on screens at meeting rooms and at strategic wayfinding locations throughout the property. With event details published automatically, hotel staff are not burdened with paper or manual signage workflows, and guests can easily find their meeting rooms. Finally, if last minute changes to events are needed, updates to screens can be made from any web-enabled device.
Noventri – a division of Specialized Communications Corporation (est. 1978) – succeeds by simplifying the digital signage experience through solid automation and data-based content solutions. Noventri serves such names as Lockheed Martin, Fenway Park, Marriott CI/TY, and Pfizer in a wide range of industries worldwide. Noventri headquarters is located at 20940 Twin Springs Dr., Smithsburg, Maryland 21783-1510. URL: http://www.noventri.com