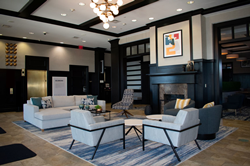 A modern atmosphere that evokes an air of purpose when the guest moves from one space to the next.
NORTHBROOK, Ill. (PRWEB) March 18, 2021
The Sheraton Chicago Northbrook has unveiled a new look by O'Kelly Kasprak, a Chicago-based architectural studio that specializes in the hospitality industry. Marriott's new Sheraton brand vision implemented by the 10-year-old firm centers on the functionality of the floor plan. While O'Kelly Kasprak redefined the lobby, food service, meeting spaces, and guestrooms at Sheraton Chicago Northbook, they stayed true to the needs of its most loyal patron, the business traveler. The result is a modern atmosphere that evokes an air of purpose when the guest moves from one space to the next.
"The function and tone of each space are key to the design of the new Sheraton hotel," said Belinda O'Kelly, Founding Principal of O'Kelly Kasprak. "Our focus was on smooth transitions from space to space, providing guests with a sense of community when traveling for either work or leisure."
Using the square footage available for public amenities, O'Kelly Kasprak re-created flow within the floor plan, injecting a color block concept and a fresh look through textures and warm modern finishes. The new contemporary palette for food and beverage outlets, the lobby, and work areas include clean lines and bold upholsteries that incorporate the scheme. Because the existing millwork at Sheraton Chicago Northbrook remained, O'Kelly Kasprak selected carpeting, wallcoverings, and artwork that complemented existing details. The new lounge areas and break out spaces made each zone a comfortable place to dine, work, or socialize simultaneously – bringing a different function and understanding to each public amenity. The design team focused on adding a level of contemporary luxury to meeting rooms and executive lounge spaces heavily utilized by guests traveling for business or events.
The corridors and guestrooms at Sheraton Chicago Northbrook incorporate Marriott's new standard carpet, artwork, and wallcovering paired with new lighting and upholstered goods, creating a seamless transition from the lobby. The design team worked closely with an art consultant to curate an art package that referenced iconic local sights like Marina City and the Chicago Botanic Garden. They also selected new trim colors and furniture styles to accommodate the rooms' layout and bring to life the standard palette. Lastly, the implementation of brand standard guestroom finishes including window treatments and wallcovering brought new life to the hotel's case goods and allowed for a more visible display of natural light.
About O'Kelly Kasprak
O'Kelly Kasprak is a full-service architecture, interior design, and project management firm known for bringing a strong hospitality perspective to commercial spaces. The company's portfolio includes a variety of hotels, restaurants, bars, clubs, entertainment venues, sport and recreational facilities, theaters, corporate spaces, retail stores, and specialty projects. Founded in 2010, Belinda O'Kelly and David Kasprak lead a collaborative studio of professionals through a proprietary design process structured to produce functional, beautiful, enduring and unique spaces. The firm prides itself on its design abilities, vast technical knowledge, enthusiasm for creativity, and exceptional service to clients. Visit http://www.okellykasprak.com to learn more.