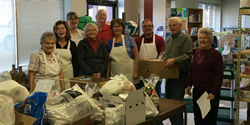 SHERWOOD PARK, Alberta (PRWEB) October 05, 2020
Today, Monday October 5, 2020, Sherwood Ford and OilersNation are kicking off their annual Giant Thanksgiving Food Drive. These two local companies run this annual event to collect and donate supplies to local food banks in the Edmonton area. Located in Sherwood Park near Edmonton, Sherwood Ford is a community-involved dealership which hosts events like this one every year.
This year, food donations are especially needed by the community. According to the Food Banks Canada's 2020 Annual Report, both volunteers and food donations have seen a recent decline. The decline in donations can put a strain on the food bank's capability to provide for the community.
To collect donations, Sherwood Ford and OilersNation are enlisting the help of three local schools. Two of these schools are Edmonton public schools, Harry Ainlay High School and M.E. LaZerte School. The third school is Lakeland Ridge School in Sherwood Park. Donations from students will be collected at these locations to support local food banks.
Members of the community who would like to support their local food banks are encouraged to bring non-perishable items to Sherwood Ford. Non-perishable food items can include packaged or canned goods. Sherwood Ford is located at 2540 Broadmoor Boulevard in Sherwood Park, Alberta. Donations can also be brought to Sobey's Belmont, located at 13504 Victoria Trail NW in Edmonton, Alberta. Donations can be made now through October 29, 2020, and everyone is encouraged to participate.
For those individuals who would rather make a cash donation, Strathcona Food Bank and Edmonton Food Bank are accepting monetary donations on their websites. Community members can go to strathconafoodbank.ca/donate or edmontonsfoodbank.com/donate-now to make their donations.