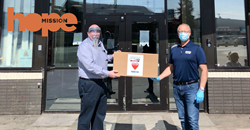 SHERWOOD PARK, Alberta (PRWEB) May 18, 2020
Sherwood Ford, the local Ford dealership located in Sherwood Park near Edmonton, received and donated a total of 300 face shields to businesses in the area this month. The face shields, produced by Ford Motor Company of Canada in its Windsor, Ontario engine plant, are designed to protect workers from sprays, splashes and large particle drops in the air. Ford Motor Company of Canada announced last month its plan to produce 2.75 million of these face shields by converting its facility for production.
The masks received, donated and distributed by Sherwood Ford were delivered to Chartwell Emerald Hills Retirement Residence, Greenland Garden Centre, Hope Mission of Edmonton, Sherwood Park Care Centre and Strathcona Food Bank. The businesses will use these face shields to protect their workers and help prevent the spread of disease.
Kurtis Hicks, the General Manager of Sherwood Ford, commented on the selection of businesses to receive this donation "we thought that senior care facilities and other community support services could definitely use some [personal protective equipment] in this difficult time." He went on to say that, "to be able to give back to our community in a meaningful way that makes a difference is definitely something we're so very happy to be able to do together with Ford of Canada during these unprecedented times." Indeed, the dealership has always maintained a large presence in its community.
Sherwood Ford has hosted several of its own events in the community before, including one to collect donations for a local food bank and another to educate the community on the risks of impaired driving. This year, Sherwood Ford is a DealerRater Dealer of the Year. To learn more about the dealership, drivers can head to its website, sherwoodford.ca.