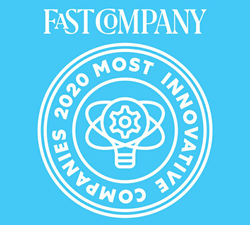 "Shield AI is humbled that Fast Company praised our work 'for sending drones into danger to keep first responders safe.'" says Shield AI co-founder and CEO Ryan Tseng.
SAN DIEGO (PRWEB) May 08, 2020
Shield AI, the technology company focused on utilizing its innovative AI technology to safeguard the lives of military service members and first responders while in harm's way, today expressed its gratitude to Fast Company for naming the startup as one of the "World's Most Innovative Companies" for 2020. The five year old company, founded by a former Navy SEAL, a tech entrepreneur and an expert in autonomy, has invented an AI-powered autonomous quadcopter which can provide real-time data inside complex structures, normally the domain of only highly capable military service personnel and disaster relief specialists.
"We're honored to be recognized by Fast Company for bringing cutting-edge technology to conflict areas. We founded Shield AI with a mission of building AI-powered products to provide much valued intelligence in areas that would otherwise require civilians and service members to risk their lives to obtain" said Shield AI co-founder Brandon Tseng, a military veteran who served 7 years in the Navy.
Shield AI has grown from fewer than 30 employees at the end of 2017 to nearly 150 today. The cross-disciplinary team is built of leading AI innovators, software and hardware engineers, military leadership veterans, policy experts and technology entrepreneurs.
Shield AI co-founder Ryan Tseng added, "Shield AI is humbled that Fast Company praised our work 'for sending drones into danger to keep first responders safe.' We believe that our innovative technology paired with robotics for use in conflict areas and disaster zones will provide the critical intelligence and visibility advantage necessary to protect lives."
In addition to its Nova quadcopter, Shield AI develops two software products. Hivemind Edge is an intelligent software stack that enables machines to execute complex, unscripted tasks in denied and dynamic environments without direct operator inputs. The application is edge-deployed, meaning all processing and computation can take place without reliance on network connectivity, a critical need in disaster areas and battlefields.
The second software product, Hivemind Core, integrates data management and analysis, scalable simulation, and self-directed learning in order to radically accelerate product development workflows.
In the coming months, Shield AI will unveil its next generation of Nova aimed at bringing the power of resilient AI systems to an even wider array of mission sets, with the ability to team intelligently with operators to navigate tunnels beneath the earth and multi-level structures.
About Shield AI
Shield AI was founded in 2015 by Brandon Tseng, a former Navy SEAL, Ryan Tseng, a successful tech entrepreneur, and autonomy expert Andrew Reiter. Today the team is more than 140-strong, with Chief Technology Officer Prof. Nathan Michael of Carnegie Mellon University's Resilient Intelligent Systems Lab leading the company's development of AI systems that operate on the edge in challenging, previously unknown, real-world environments.
For Media Inquiries
Jessica Smyth
media@shield.ai