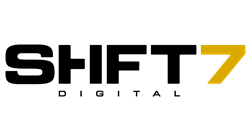 NEW YORK (PRWEB) September 28, 2020
Andrew Walker, CEO of Shift7 Digital, the modern digital agency for manufacturers, has been selected to speak at inRiver's PIMPoint Digital Conference on Friday, October 9. Walker's presentation, "eCommerce Channel Acceleration - Are You Ready?" is part of the conference's Exceptional Customer Experience track and will be given in tandem with Christian Wiltrout, President of SureWerx, one of the leading manufacturers in the US and Canada.
This year has seen soaring ecommerce growth due to COVID-19 stay-at-home regulations and many manufacturers have been forced to reevaluate their digital presence. In fact, over two-thirds of manufacturers have moved marketing dollars from traditional to digital channels this year and with eight in ten investing the most of their marketing spend on their own website. This trend correlates directly with where manufacturers are seeing sales - 52 percent say the majority of their sales have come from online channels in 2020.
WHEN: Friday, October 9 at 10:00am ET
REGISTER: HERE
FOR WHO: Anyone creating product experiences or working in ecommerce
WHAT: Manufacturers are facing significant disruption as a large portion of sales shift to eCommerce. They need to embrace digital experiences, eCommerce channels, and enabling technologies. This session will dive into how manufacturers can no longer rely on manual processes, and instead need to build scalable, flexible approaches to product information management that allow them to effectively showcase their product on online channels.
Topics covered include:

How your channel experience is a critical part of your customer experience
How you can accelerate your eCommerce channels to unlock growth
About Shift7 Digital
Shift7 Digital is revolutionizing the digital experience for manufacturers and their customers. Backed by a team of experts with deep industry insights, Shift7 truly understands the challenges and opportunities facing the B2B market today and delivers a customized, yet prescriptive process for partnering with companies as they evolve from a product-centric to a customer-centric approach. Shift7 is modernizing manufacturing to help businesses transform through digital marketing to drive connections, commerce and revenue. For more information, visit http://www.shift7digital.com.