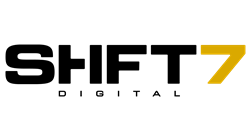 Mastering the digital shelf is a key component of nearly all of our plans and no one knows how to do that better than Salsify.
NEW YORK (PRWEB) February 02, 2021
Today, Shift7 Digital, the modern digital agency for manufacturers, is announcing a new strategic partnership with Salsify, the commerce experience management platform that helps brands win on the digital shelf. Chosen as one of the first partners in Salsify's expanded Partner Program, Shift7 Digital will bring Salsify's best-in-class technology to manufacturers to help them ace their digital shelf strategy. In the wake of the global pandemic, a robust ecommerce presence has become paramount to many manufacturers' survival.
"In order to provide our clients with the best roadmap for ecommerce success, we need to be able to provide the best possible tools," said Andrew Walker, CEO of Shift7 Digital. "We're always evaluating and researching what makes the most sense for manufacturers and our partnership with Salsify is an essential step forward in continuing to revolutionize the digital experience for them. Mastering the digital shelf is a key component of nearly all of our plans and no one knows how to do that better than Salsify."
The Salsify Commerce Experience Management (CommerceXM) platform leverages an integrated product information management (PIM) platform, digital asset management (DAM), and an experience builder with core commerce capabilities designed to enable sales across retailer, distributor, and direct-to-consumer (D2C) channels. Combined with Shift7's forward thinking methods that transform digital marketing to drive revenue, manufacturers will be able to harness the power of the digital shelf to their benefit more than ever before.
"Shift7 shares our commitment to creating best-in-class commerce experiences for brand manufacturers, and they're exactly the type of partner we had in mind when our Partner Program was being developed," said Dan Herman, SVP, Partners & Alliances at Salsify. "In today's environment, digital shelf transformation represents a limitless opportunity and Shift7 has made this a core tenet of their business."
Shift7 will also be part of Salsify's 2021 virtual partner summit, Digital Shelf Delivery, on Wednesday, February 17. Attendees will gain a deeper understanding of market opportunity and learn about new enablement resources and tools.
For more on how Shift7 Digital is helping some of the biggest names in manufacturing elevate their digital presence, visit http://www.shift7digital.com.
About Shift7 Digital
Shift7 Digital is revolutionizing the digital experience for manufacturers and their customers. Backed by a team of experts with deep industry insights, Shift7 truly understands the challenges and opportunities facing the B2B market today and delivers a customized, yet prescriptive process for partnering with companies as they evolve from a product-centric to a customer-centric approach. Shift7 is modernizing manufacturing to help businesses transform through digital marketing to drive connections, commerce and revenue. For more information, visit http://www.shift7digital.com.
About Salsify
Salsify empowers brand manufacturers to win on the digital shelf by delivering the commerce experiences consumers demand anywhere they choose to shop online. The world's biggest brands including Mars, L'Oreal, Coca-Cola, Bosch, and GSK use Salsify every day to stand out on the digital shelf. To date, Salsify has raised a total of $198.1 million in funding, led by Warburg Pincus, Venrock, Matrix Partners, Greenspring Associates, Underscore VC, and North Bridge.
For more information, please visit: http://www.salsify.com.