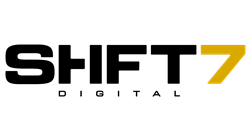 NEW YORK (PRWEB) December 02, 2020
Today, Shift7 Digital, the modern digital agency for manufacturers, is announcing that several of their top executives have been selected to speak at the first day of B2B Online Connect on Monday, December 7. Shift7 CEO Andrew Walker will serve as Chairman of the first day, including opening remarks for the conference, as well as moderating a panel, "Implementing Enhanced Customer Experience Strategies To Differentiate From Competitors" and a roundtable discussion on Ecommerce channel acceleration. Additionally, Derek Horne, Shift7's Vice President & Executive Creative Director, will moderate a fireside chat, "Building a CX Agenda To Get Ahead Of The Competition."
Ecommerce has seen staggering growth this year due to COVID-19 and many manufacturers have been forced to reevaluate their digital presence. In fact, over two-thirds of manufacturers have moved marketing dollars from traditional to digital channels this year and with eight in ten investing the most of their marketing spend on their own website. And, this matches where manufacturers are seeing sales - 52 percent say the majority of their sales have come from online channels in 2020.
WHEN: Monday, December 7 beginning at 12:00PM ET
REGISTER: HERE
FOR WHO: Senior-Level Ecommerce & Digital Marketers From Manufacturers & Distributors
WHAT: Sessions with thought leaders on the forefront of B2B digital marketing, including:
Fireside Chat - Building a CX Agenda To Get Ahead Of The Competition
While customer experience was traditionally a focus for consumer facing business, B2B organizations understand how this can be a key differentiator. Tracy Robertson, Global VP of Customer Experience for Kimberly-Clark, and Derek Van Horne, Vice President & Executive Creative Director, Shift7 Digital will take a deep dive into the CX strategies they've put in place to meet customer expectations and remain competitive.
Panel Discussion - Implementing Enhanced Customer Experience Strategies To Differentiate From Competitors
This year's Ecommerce trends, such as prioritizing SEO and improving product content management, have common themes centered on the customer experience. This panel of B2B thought leaders, including Shift7's Andrew Walker and Randy Higgins, will take a deep dive into ways to get customers talking and providing the experiences they expect.
Innovation Roundtable - Ecommerce Channel Acceleration: Are You Ready?
It's not a secret; you know your brand needs to go all in on digital, specifically on Ecommerce. If your business is going to thrive, your path to digital fluency needs to be accelerated ASAP. This roundtable will discuss key pillars of digital acceleration for manufacturers that will guide them on the path forward.
About Shift7 Digital
Shift7 Digital is revolutionizing the digital experience for manufacturers and their customers. Backed by a team of experts with deep industry insights, Shift7 truly understands the challenges and opportunities facing the B2B market today and delivers a customized, yet prescriptive process for partnering with companies as they evolve from a product-centric to a customer-centric approach. Shift7 is modernizing manufacturing to help businesses transform through digital marketing to drive connections, commerce and revenue. For more information, visit http://www.shift7digital.com.