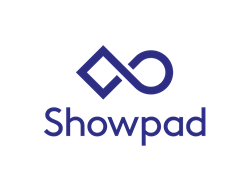 CHICAGO (PRWEB) February 25, 2021
Showpad, the global enablement leader, reported a strong end to FY 2020, driven by impressive customer growth and increased platform use due to accelerated digitization by widespread remote work.
Gartner predicts that by 2025, 80% of B2B interactions between sellers and buyers will occur in digital channels. Showpad saw evidence of this with a 300% year-over-year increase in the use of Shared Spaces, its branded buyer portal technology, where sellers can collaborate with colleagues and customers without the need for arduous email threads.
"As a society, we've experienced a massive amount of digital transformation in the span of a year. As buyers shifted to more digital ways of engaging, sales teams were forced to catch up quickly. Organizations in almost every industry witnessed the power and impact that a strategic enablement function can have in keeping teams skilled and successfully selling," said Pieterjan Bouten, co-founder and CEO of Showpad. "The growth we experienced in 2020 is yet another proof point that sales enablement has become a business-critical function, and equipping teams with the right tools, training and structure can lead to incredible top-line results and more focused buyer engagement.''
As sales teams adapted to working remotely, Showpad saw a massive increase in the adoption of certain platform features. Specifically, the company saw a 50% year-over-year increase in content shares and a 200% increase in recorded practice pitches from sellers created to gather feedback from managers and colleagues. Using the Showpad platform, sales teams were able to stay skilled and productive, all without having to meet in person.
The Rise of Revenue Enablement
Today's digitally-driven, empowered buyers demand experiences that are valuable, convenient and consistent. Traditionally the focus has been on sales teams with assistance from marketing to deliver those. However, the next era of commerce requires organizations to deliver truly differentiating experiences across a customer's entire lifecycle.
"We believe that experience is the ultimate differentiator and that revenue enablement is the system where highly engaging and valuable experiences will be created," said Louis Jonckheere, co-founder and Chief Product Officer of Showpad. "Our platform enables more than 1,200 companies to orchestrate across their revenue organizations to deliver incredible buying experiences. And we're committed to continue delivering industry-leading innovations that deliver those incredible customer experiences, and ultimately drive more revenue."
Platform Enhancements, Expanded Partnerships and Market Validation
Alongside its strong customer growth and massive increase in platform usage, Showpad delivered platform innovations focused on improving enterprise capabilities, enabling better collaboration with buyers and continued improvement of platform performance over the past year. Additionally, Showpad continues to invest in its growing partner network, announcing a recent partnership with 3D and AR technology company Threekit to enhance virtual selling experiences.
To close out the year, Showpad was included in several of G2's Top 2021 lists ranking in the top 10 for best software products, top sales products, highest satisfaction, top enterprise products and best mid-market tools. Additionally, Showpad was recognized on Built In Chicago's "Best Places to Work Award" for continued commitment to culture and ensuring incredible employee experience.
To learn more about Showpad, visit showpad.com
About Showpad
At Showpad, we believe that the buyer experience is the ultimate differentiator. And this is why we built the most complete and flexible sales enablement platform that marketing and sales rely on to prepare sellers, engage buyers, and optimize performance with insights. With a single user experience, our solution makes it easy to discover and share the right content, deliver training and coaching, and maximize seller productivity.
Showpad drives rapid deployment and adoption with best-in-class technology and practices based on the success of more than 1,200 customers in over 50 countries. GE Healthcare, Bridgestone, Honeywell, and Merck, among others, rely on Showpad's sales enablement platform in every step of the buyer journey.
Founded in 2011, Showpad has experienced explosive growth in recent years and has now raised a total of $185 million in funding. Our team of 450 people work from the company's headquarters in Ghent and Chicago and regional offices in London, Munich, San Francisco, and Wroclaw. In 2019, Showpad was included on the Best Workplaces list by Inc. Magazine. To learn more about Showpad, visit showpad.com or follow Showpad on Twitter and LinkedIn.