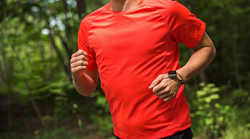 CARLSBAD, Calif. (PRWEB) October 31, 2018
EdgeGear Inc. today announced enhancements to the SHIFT™ watch band, which builds on the company's wildly successful 2016 Kickstarter. SHIFT 2.0, the first watch band that shifts the placement of the smartwatch to optimize viewing and interaction, is now upgraded with the same Viton™ material used in the Apple Watch Sport band.
Making the perfect gift for runners and cyclists in the family, the SHIFT watch band is available for $39.99 currently including Free Shipping and can be purchased from getedgegear.com.
"Watches are no longer just about the time, they now feed you a torrent of information that improves athletes' ability to perform better," said Andrew Green, co-founder of EdgeGear. "We want to make it easier for athletes to see and interact with their watch in a more efficient and safe way while in motion."
EdgeGear SHIFT™ specifications:

The SHIFT band is approximately 33% lighter than Apple Watch Sport band and designed to reduce sweat during training.
SHIFT is made of the same Viton™ rubber used in Apple Watch Sport band and die-cast zinc.
The SHIFT band is adjustable and can be reversed to be worn on either hand.
For more information, please visit: http://www.getedgegear.com or Media Kit for additional images.
Brief history
The US entered WWI with pocket watches sewn into leather wrist straps to use as a new tactical edge. After the war, the world embraced this odd but new location for the watch. However, smartwatches are radically different from timepieces of 100 years ago and require more interaction.
The SHIFT band is the first watch band to challenge the status quo in 100 years. The innovative functionality will transform the power of the smartwatch for the running, cycling, and athletic communities, providing greater safety benefits, fitness value and high-performance interaction with easier viewing of key information during training.
About EdgeGear
Founded in 2014, EdgeGear believes technology for fitness should be designed with clever, convenient user-interaction at its core. Interacting with your smartwatch shouldn't have to be yet another piece of technology that requires bending in unnatural positions. The founders personally made over 20 prototypes, testing and iterating with professional runners along the way to what is now the only watch band on the market that puts your watch in line with your sight while running.
Contact Info:
James Gilmore, Co-Founder
+1-760 277 5982
james.gilmore(at)getedgegear.com
Andrew Green, Co-Founder
+47 9168 8483
andrew.green(at)getedgegear.com