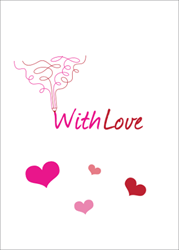 Improve life one stanza at a time.
LOS ANGELES (PRWEB) February 03, 2021
Telling others how you feel can be difficult, especially when sitting down to write a personal note to someone special. It may be easier to buy a commercial card with words already there, but those cards often lack true sentiment. No one can express your feelings better than you can.
This Valentine's Day, open up and write from the heart. ShiftPoetry's "With Love" Greeting Card is not a typical "blank" card. It includes a "ShiftPoetry Prompt," created to inspire individuals to write a thoughtful and heartfelt message, especially when words might temporarily escape you.
ShiftPoetry's Greeting Card Collection is a carefully chosen assembly of cards and prompts designed to fit the many occasions and special moments in life, when reaching out to others is most important. ShiftPoetry's unique, meaningful prompts spark individuals to express their feelings freely and openly.
ShiftPoetry's Greeting Card Collection will include:

With Love
With Joy
With Thanks
With Kindness
With Heart
With Pride
With Gratitude
Plus, Special Offerings for Mother's Day and Father's Day
ShiftPoetry Greeting Cards are made in the USA from recycled materials. The "With Love" card is available at select stores for $6.00 USD per card or online at shiftpoetry.com for $33.00 USD plus shipping for a box of 10 cards.
SHIFTPOETRY is a growing platform of prompt driven writing in community to better one's life. In ShiftPoetry workshops, writers are encouraged to write from the heart, leave their egos behind, knowing that they will receive "thank-you(s)" – not critiques. ShiftPoetry is about writing for self-help – writing oneself happy, healthy and whole. Most of all, we like to say, "whatever one writes is perfect." ShiftPoetry's goal is to "improve life one stanza at a time." With greeting cards and books, we can share ShiftPoetry beyond our workshops. To learn more about ShiftPoetry, visit shiftpoetry.com.