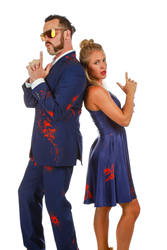 Boulder, CO (PRWEB) October 11, 2017
The matchy-matchy Halloween collection, which features matching blood spattered suits and dresses along with several other Halloween themed prints for couples to flaunt this October, was designed with the intention of saving relationships both personal and professional.
Shinesty's CEO, Chris White said, "Halloween parties have been filled with bickering couples and lame costumes like the Sexy Cat for too long. We created a Halloween option that everyone can enjoy and look good in without running the risk of an after-party fight with your SO."
Pricing for the Halloween suits starts as low as $59.99 and the dresses start at $19.99.
In addition to suits and dresses, Shinesty sells a wide variety of affordable Halloween costumes for individuals, couples, and groups to take the Halloween party to a whole new level.
ABOUT SHINESTY: Shinesty, an online retailer of outrageous and irreverent party attire, has one mission: to rid the world of boring clothing. With a full selection of ugly Christmas suits and dresses, July 4th party clothing, and apparel for just about any theme party imaginable, Shinesty is the #1 online destination for people that like to party.