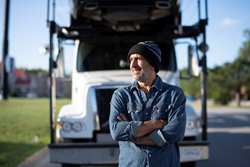 Our industry is primed for innovation--we are at an inflection point. Using next-generation technology we are creating solutions that meet the evolving demands of the auto transport industry," said Ravi Adatrao, CEO Ship.Cars.
SCHAUMBURG, Ill. (PRWEB) October 17, 2019
With exceptional technology, deep industry experience and an unwavering focus on the customer, Ship.Cars is set to become the No. 1 provider of digital apps and platforms for Shippers, Carriers, Owner Operators and Brokers.
Ship.Cars USA, LLC, the leading software solution company driving auto transport innovation, is proud to formally unveil a powerful, omnichannel suite of products for Shippers, Carriers––both with multiple trucks as well as Owner Operators––and Brokers, which it has previously made available to select market leaders. With a deep commitment to customer-centric solutions that enable smarter, faster shipping and help businesses thrive, Ship.Cars is transforming the way vehicle loads are processed, priced and delivered while uniting the car-hauling industry around the banner of 'Ship Cars Smarter.'
For far too long, Shippers, Carriers and Brokers have struggled to make their operations thrive. Shippers have been searching for a viable method to rapidly replenish inventory with a few simple clicks; Drivers, Dispatchers and Owner Operators have been drowning in paperwork, looking for seamless ways to select loads online and process multi-vehicle orders; and Brokers have waded through a stagnant marketplace dominated by industry behemoths and their high-priced, suboptimal technologies.
By leveraging automation to complete an array of time-consuming tasks, Ship.Cars' digital platforms for Shippers and Carriers ensure greater flexibility, increased transparency and an enhanced and empowered customer experience. And it's precisely this unflagging commitment to customer experience that drives the innovation behind the Ship.Cars platform and animates the company's mission.
"Designed as a fully integratable and scalable solution for any sized business, our digital tools and platforms create seamless connections that delight Customers, open markets and break down existing barriers," said Ravi Adatrao, CEO, Ship.Cars. "This ensures Customers spend less time IN their business, and more time ON their business."
For the Broker and Shipper community, Ship.Cars has initiated bold digital transformation in the form of a robust suite of software applications to optimize the load posting and management experience and more efficiently move vehicles. Shipper TMS is a groundbreaking platform enabling Auctions, Dealers and Brokers to eliminate paperwork, manage orders, automate payments, post loads, negotiate terms and dispatch and deliver quickly and efficiently. There's nothing like it in the industry.
Harmoniously integrated into Shipper TMS is Market––a modern online digital marketplace for Carriers to procure the best loads posted by Shippers and Brokers. In addition, a stripped down, no-frills version of the load board called Shipper Lite is available for Dealers and Small Brokers to post loads. The Shipper Suite includes the industry-leading, next-generation quoting engine and pricing calculator, Calcatron, which allows users to unlock a massive competitive edge while maximizing margins.
The Carrier Suite provides robust auto transport solutions to Carriers, including Dispatchers, Drivers and Owner Operators. Here, Ship.Cars is leading the way, providing an industry-best driver delivery app called Driver ePOD, in addition to the powerful order and driver management capabilities built into the Carrier TMS platform. Dispatchers and Owner Operators are thrilled to have access to Ship.Cars Market Load Board, where they can connect with Brokers in a bustling online car-hauling marketplace teaming with loads.
"This industry is primed for innovation--we are at an inflection point. Using next-generation technology we are creating solutions that meet the evolving demands of the auto transportation industry," added CEO Adatrao. "Secure, transparent, reliable transactions are a must, and there is absolutely no room for uncertainty or inefficiency."
Ship.Cars has reinvented the car-hauling industry by going deep, thinking holistically and providing Customers with advanced digital tools that create value by enabling them to Ship Cars Smarter.
Simplify.Enhance.Evolve
Visit our newly redesigned website or reach out to our passionate team of solution providers and discover how Ship.Cars' innovative tools can transform your business today.
About Us
Based in Schaumburg, IL, Ship.Cars USA, LLC is a leading auto transport technology company providing powerful software solutions to the entire car-hauling industry. By leveraging bold digital transformation and advanced industry expertise, Ship.Cars creates flexible applications and platforms for Shippers, Carriers, Owner Operators and Brokers that optimize productivity, automate workflows, increase transparency, enhance customer experience and maximize opportunities to grow their business.
Follow Ship.Cars:
Twitter: https://twitter.com/Ship_Cars
Facebook: https://www.facebook.com/shipdotcars/
LinkedIn: https://www.linkedin.com/company/shipcars/