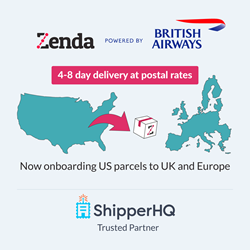 With Zenda, retailers can ship packages to the customer's doorstep in four to eight days with tracking visibility throughout the whole shipping process
AUSTIN, Texas (PRWEB) October 09, 2018
ShipperHQ, the leading ecommerce checkout shipping solution, is announcing a new partnership with cross-border delivery platform Zenda to expand door-to-door international shipping for online merchants of all sizes. With Zenda, retailers can ship packages to the customer's doorstep in four to eight days with tracking visibility throughout the whole shipping process.
As a sister company to British Airways, Zenda flies packages from the United States to Europe on over 80 flights daily from 20 major domestic airports. Online merchants in the United States who plan to expand their delivery network into Europe's more than 500 million ecommerce shoppers can offer a solution that is less expensive than express shipping, and significantly faster than traditional postal options. Zenda also offers delivered duty paid (DDP) shipping, where duties and taxes are calculated in advance to eliminate any unexpected fees, delays, and general customer frustration during delivery.
"We are extremely excited to partner with Zenda and bring this new cross border solution to our merchants," said Daniel Ziegler, Director of Partnerships at ShipperHQ. "I believe this new relationship with Zenda is going to be a game changer in the world of ecommerce. Anywhere British Airways lands is a potential route for more customers, making Zenda's future reach huge."
With ShipperHQ, retailers have the power to differentiate themselves with full control of shipping options and an ultra-fast customer experience catered to individual shipping preferences. To mitigate the need for custom coding, the new integration with Zenda will also include real-time landed cost calculation.
"This is going to be an exciting partnership to bring Zenda to tens of thousands of the world's leading ecommerce shippers," stated David Shepherd, Zenda's Managing Director, and veteran of British Airways and IAG Cargo. "Zenda and ShipperHQ will be working hand-in-hand to enhance the international shipping experience in ways that have simply not been available before now."
ShipperHQ enables retailers to incorporate Zenda into their shipping strategy with a few easy clicks of a button. Retailers will also receive the added benefit of ShipperHQ's market-leading capabilities like multi-origin shipping, dimensional rating and powerful rules and restrictions for shipping rates. By translating complex shipping logic into a seamless checkout experience, ShipperHQ makes it easier for retailers to expand to new markets.
Merchants that utilize Zenda have access to their purpose-built web interface, the behind-the-scenes tool taking care of the complexities of international shipping such as real-time duties and tax calculation, customs declarations, DDP delivery, and fully transparent shipment tracking.
ShipperHQ is launching its full integration with Zenda's services for Magento 2, BigCommerce, Shopify and Salesforce B2C Commerce by the end of 2018.
The ShipperHQ team will be available at MagentoLive Europe in Barcelona October 9-10 to answer questions and provide additional information about this new integration with Zenda. Contact ShipperHQ at ShipperHQ.com or visit ShipperHQ at booth S33 at MagentoLive Europe to learn more.
About ShipperHQ
ShipperHQ is the world's #1 storefront shipping management system, allowing ecommerce merchants to offer the best possible shipping rates and options at checkout. Headquartered in Austin, Texas, USA with global staff in the UK and Australia, ShipperHQ works hard to develop innovative, powerful storefront shipping solutions that make the lives of ecommerce merchants easier. Visit the ShipperHQ website at http://www.ShipperHQ.com to learn more.
About Zenda
Zenda, a sister company of British Airways, is an international shipping platform for ecommerce packages. Headquartered in London, Zenda provides pickup and delivery services with full door-to-door tracking, automated landed cost calculation, and DDP delivery (pre-paid duties and taxes) to ensure a smooth delivery process for the end customer. Zenda's offering is noticeably less expensive than express shipping, and significantly faster than typical postal options, with a standard delivery time frame of 4-8 days from the US to Europe. Visit the Zenda website at http://www.zenda.global to learn more and watch Zenda's introductory video.