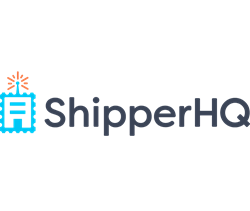 Through their eCommerce products, Salesforce has proven itself a platform for brands looking to drive growth. We're thrilled to be bringing to their merchants our enterprise-grade capabilities and experience in managing complex shipping scenarios to empower even greater growth.
AUSTIN, Texas (PRWEB) November 19, 2019
ShipperHQ, the leading storefront shipping management solution for eCommerce, announces its integration with Salesforce B2C Commerce platform at Dreamforce this week in San Francisco.
Through ShipperHQ's new partnership with Salesforce, merchants on B2C Commerce can get accurate shipping rates, set up discounts and promotions and present additional details at checkout like estimated delivery date and time, accessorial fees and cross-border duties and taxes.
Merchants using ShipperHQ will also get access to a marketplace of over 40 logistics providers, including major domestic and international carriers. Additionally, they will be able to connect with innovative carrier services that offer same day shipping, LTL freight and white-glove delivery. This marketplace makes it easy for retailers to manage already established relationships with preferred providers or find the ideal carrier for new markets.
"Since 2015, our features have supported thousands of retailers around the world, including brands like Kellogg's, Rural King, Paul Mitchell and more," said Quentin Montalto, COO at ShipperHQ. "We're excited to now extend our support to companies on B2C Commerce and help them take their shipping experiences to the next level."
"Over the last couple years, we've had an increasing amount of inquiries from retailers on Commerce Cloud. In fact, Metallica already uses ShipperHQ in their Salesforce store. But with this new integration, our solution will be readily open to other merchants on B2C Commerce who want greater control over shipping for their online storefront."
ShipperHQ on B2C Commerce grants merchants access to a new suite of customizable tools for enhancing the customer checkout experience, driving brand loyalty and using shipping as a key differentiator against competitors.
The launch will include all of ShipperHQ's most popular features for Enterprise retailers, including:

Carrier Rules - Set rules for surcharges, discounts or promotions against conditions like geography, cart quantity and price
Dimensional Packing - Control margins with accurate shipping rates based on dimensions, box sizes and product weight
Multi-Origin Management - Establish all shipping origins, rate out of the closest origin to a customer and group orders into as few shipments possible
Live LTL Freight Rates - Show customers live LTL rates for bulky and heavy items, or high volume orders
Date & Time Details - Show guaranteed delivery information at checkout, plus create cut-off times, lead times and black out dates
Landed Cost Engine - Display and/or collect duties and taxes in cart and checkout to grow cross-border sales
With ShipperHQ, retailers on B2C Commerce can create a complimentary shipping strategy that works hand in hand with their business goals, such as increased conversions and less abandoned carts.
"Through their eCommerce products, Salesforce has proven itself as a platform for brands looking to drive growth online," said Daniel Ziegler, Senior Business Analyst at ShipperHQ. "We're thrilled to be bringing to their merchants our Enterprise-grade capabilities and experience in managing complex shipping scenarios to empower even greater growth."
ShipperHQ's new integration will allow retailers to customize their online pre-purchasing experience, which includes showing competitive shipping rates and more convenient delivery choices at checkout. Previously, custom development would be required for merchants to achieve this level of personalization on B2C Commerce.
"Salesforce is a company that continually looks beyond the borders of commerce to bring in other best of breed companies and give their merchants the tools they need to grow and succeed," said Montalto. "As the commerce landscape continues to evolve, we believe they are a great partner to stand by."
ShipperHQ will be launching in the Salesforce AppExchange for retailers on B2C Commerce in early 2020.
Interested in signing up? Merchants can register here for early access to ShipperHQ's new Salesforce integration.
About ShipperHQ
ShipperHQ provides merchants with powerful tools to customize their shipping, generate more sales and compete with Amazon. Built on over a decade of experience serving thousands of retailers worldwide, ShipperHQ gives merchants full control of the pre-purchase shipping and checkout experience.
With advanced capabilities like in-store pickup, multi-location shipping, guarantee delivery dates, cross-border duties and taxes and LTL freight, merchants can make shipping profitable and use it as a tool to differentiate their business from competitors.
To learn more, visit: http://www.ShipperHQ.com.