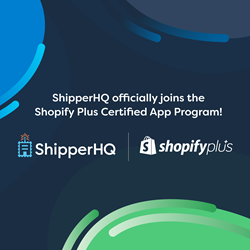 To be successful during this pivotal time, online retailers must partner with technology solutions that can take their changing requirements and scale with them.
AUSTIN, Texas (PRWEB) October 05, 2020
ShipperHQ, the #1 shipping rate management solution for ecommerce retailers, today announced its selection into the Shopify Plus Certified App Program.
As the first Shopify Plus app partner that handles the pre-purchase shipping experience, merchants using ShipperHQ can take control of their online shipping strategy and present a checkout experience that aligns with their unique products and customers.
After installation, retailers can tailor the information that appears at checkout to a buyer's exact purchasing scenario, considering what's in a customer's cart, where they are located, how much they're spending and more.
"Once a customer is ready to make a purchase, one of the last impressions they have of you is your shipping. It's a make or break experience for most people," said Quentin Montalto, COO of ShipperHQ.
"It's more than simply doing what your customer wants, which is always offering fast and inexpensive shipping options. You need to consider how you actually run your business, like what boxes you use, the carriers you work with and where you ship orders from. With ShipperHQ, Shopify Plus merchants will be able to take all of these things into account and build a strategy that works for them."
With ShipperHQ's shipping app for Shopify Plus, B2B and B2C merchants configure a long-term shipping strategy that ties to their exact business goals, whether it's increasing conversions, breaking even on shipping or generating a profit from it. Through ShipperHQ's advanced features, retailers can:

Show details customers expect to see at checkout, such as accurate delivery dates
Customize delivery options offered to buyers, including store pickup and LTL freight
Improve shipping margins by automating rates from multiple shipping origins
Determine how boxes are selected for orders and how products are packed together
Save money by checking a customer's address type to get charged the correct fees
Prior to this official collaboration, ShipperHQ has worked with tens of thousands of merchants since the company's launch in 2014 including many established Shopify Plus stores like Tecovas, Zippo and Igloo.
"To be successful during this pivotal time, online retailers must partner with technology solutions that can take their changing requirements and scale with them. That's why being named the first shipping app into the Shopify Plus Certified App Program is so exciting," said Karen Baker, CEO of ShipperHQ.
"We work with many merchants that have gone through this type of transition period, and are still with us today. One reason why they've stuck around is that to us the most important thing is the merchant and what they need to keep their business alive and thriving for as long as possible. I know the Shopify Plus team shares this sentiment and that this program is designed to guide merchants as their needs become more complex."
About ShipperHQ
ShipperHQ is a Shipping Rate Management solution that helps merchants align their checkout to the way they do business through shipping rules, restrictions, discounts and surcharges. ShipperHQ also allows merchants to define shipping rates and delivery options by weight, product type and more. With these tools, retailers can dynamically tailor the shipping rates and options that appear to every specific buying scenario. Direct integrations let retailers account for factors like specific items in the cart, customer location, cart size and more. With 50+ small package and LTL freight carriers, live-rates show every time and provide customers with the most accurate shipping prices possible.
To learn more about ShipperHQ visit: http://www.ShipperHQ.com