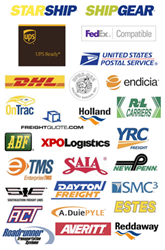 We pride ourselves on providing the highest quality of service to our customers. This price increase is in response to our continued commitment to increasing the ROI our customers enjoy, said Caroline Walsh, VP of Sales and Marketing, V-Technologies, LLC.
Cheshire, CT (PRWEB) January 17, 2017
V-Technologies, LLC, a leading provider of integrated shipping software for ERP systems such as, Sage Software, Intuit, Microsoft Dynamics and more, announces a price increase effective January 1, 2017. StarShip shipping software solutions bring together industry leading ERP systems to offer a complete warehouse management solution for ERP software customers. StarShip retrieves and translates order or packing information from the ERP software to complete the shipping process, integrating to parcel and LTL carriers such as UPS, FedEx, USPS and over 2 dozen LTL carriers. The ability to deliver these capabilities without having to customize the ERP software system simplifies implementation and upgrades. In addition to expanded ERP software, eCommerce, EDI and inventory management functionality, StarShip includes USPS as a standard module, complete with discounted Priority and Express Mail pricing.
StarShip shipping software offers a turnkey approach to processing small parcel and LTL shipments with ERP software. The bi-directional interface streamlines the entire workflow to gain immediate efficiencies in shipment processing, accounts receivable and customer service for improved productivity and cost savings.
Please click the link to find details of StarShip shipping software pricing by interface.
About V-Technologies:
Founded in 1987, V-Technologies, LLC is a shipping software development company who has developed a selection of shipping software solutions to meet the growing demand for integrated shipping. StarShip™ and ShipGear® are the two flagship shipping software products. V-Technologies, LLC offers shipping software interfaces with Sage Software's Sage 100 (formerly MAS 90 and MAS 200), Sage X3, Sage 500, Sage 50, Microsoft Dynamics GP, Acumatica, Macola, QuickBooks, QuickBooks Online and Fishbowl. Additional information about V-Technologies and its solutions is available at http://www.vtechnologies.com.