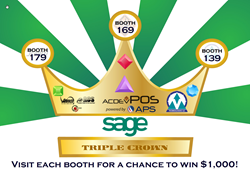 Visit booth 139 to learn how Sage customers streamline shipping operations to gain immediate efficiency in shipment processing, accounts receivable and customer service for improved productivity and cost savings. Caroline Rua, V-Technologies, LLC
Cheshire, CT (PRWEB) May 09, 2017
V-Technologies, LLC. exhibits the latest release of leading Sage shipping software solutions ShipGear® and StarShip™ at Sage Summit 2017 in Atlanta, GA on May 9 - 11, 2017. This Sage Summit conference is attended by a network of hundreds of the nation's leading Sage software resellers with expertise in technology and solutions integration for small-to-medium sized businesses. Sage certified resellers support and implement Sage 100, Sage 500 and Sage X3 software products.
Visit booth #139 to learn how V-Technologies' ShipGear and StarShip shipping software solutions empower thousands of Sage customers to save time and money with leading integrated shipping technology for Sage 100, Sage 500 and Sage X3. Visit us in booth 139 and our integration partners, American Payment Solutions in booth 169 and One Software Solution in booth 179 for chance to win $1,000!
V-Technologies' goal at the conference is to build networking relationships among Sage certified resellers and educate attendees about powerful shipping resources to help Sage customers grow their business. Look for Caroline Rua and Ryan Komons with V-Technologies in booth #139.
Here are a few highlights:
ShipGear:
USPS Endicia DAZzle and Endicia Pro integration
USPS discounted rates
Amazon & eBay integration
StarShip:
USPS discounted rates
USPS consolidators (UPS Mail Innovations, DHL Global Mail, APC, etc.)
USPS Pay-On-Use Returns
Amazon integration
Canadian Origin
Acumatica integration
In addition, learn about the latest in regard to expanded eCommerce offerings to Magento and WooCommerce.
About V-Technologies, LLC:
Founded in 1987, V-Technologies is a shipping software development company who offers a selection of solutions to meet the growing demand for integrated shipping. StarShip and ShipGear are the two flagship shipping software products. V-Technologies develops interfaces with Sage Software's Sage 100 (formerly MAS 90 and MAS 200), Sage 500, Sage 50, Microsoft Dynamics GP, Acumatica, QuickBooks, Macola, QuickBooks, Fishbowl, Amazon and eBay.
V-Technologies has partnerships with other supply chain management solutions such as EDI integration with HighJump True Commerce, SWK's MAPADOC, Edisoft and SPS Commerce along with popular barcoding solutions such as Scanco, ScanForce and Panatrack. Additional information about V-Technologies and its solutions is available at http://www.vtechnologies.com