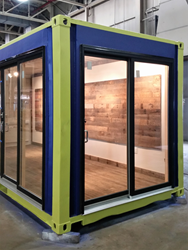 Our reclaimed wood brings organic character and warmth to the hard lines of the steel shipping containers, a testament to design flexibility
Farmington, NY (PRWEB) October 04, 2016
The new Networking Lounge check-in area and Passport to Prizes drop-off location at the Greenbuild International Conference and Expo will be housed in two repurposed shipping containers fitted with Reclaimed Wood Flooring and Paneling from Pioneer Millworks, a leader in the reclaimed wood industry. The containers will accommodate the numerous meetings, introductions, and interactions that take place during the week.
"The use of shipping containers as a form for construction is a fantastic example of adaptive re-use and recycling. Our certified 100% Recycled Flooring and Paneling adds organic character and warmth to the hard lines of the steel, a testament to the design flexibility of not only the container itself, but also our reclaimed wood," explains Jered Slusser, Reclaimed Wood Expert at Pioneer Millworks.
Patrons of Greenbuild will be able to experience a small sample of Pioneer Millworks reclaimed wood products in action in the two re-purposed containers:

Foundry Maple flooring: Reclaimed by Pioneer Millworks from a variety of factories across the US. The batch featured is from the American Crayon Factory in Sandusky, Ohio. The old wood has endured thousands of footfalls, heavy machinery, and a smattering of colorful wax crayon materials and now has new life at Greenbuild.
Railyard Oak paneling: Rail Yard Oak is reclaimed from a combination of boards and timbers from the steel pipe industry. Original surfaces are celebrated in this grade, including varied wear patterns, fastener marks, and textures. Typically a mixture of red and white oak with a smaller percentage of other hardwoods is included in this reclaimed product.
American Gothic Oak Engineered flooring: Pioneer Millworks salvages wood from agricultural buildings that have outlived their use throughout the Northeastern US. From timbers, joists, or planks, this wood has seen a fare share of livestock, tractors, and crops. The Worlds' Most Eco-friendly Engineered Flooring from Pioneer Millworks is fully manufactured in Farmington NY.
Mushroom Boards paneling: Housing mushrooms is no small task as Pioneer Millworks reclaimed Mushroom Board Hemlock's weathered face shows. The heavily textured washboard-like surface achieved from years of living with the moist and acid-laden environment used to grow commercial mushrooms.
To better accommodate the numerous meetings that take place during the week, Greenbuild International Conference and Expo has created the Networking Lounge as a free meeting space for all Greenbuild participants. The containers are part of Greenbuild's Conference and Sustainability program and will be re-used for several years at future Expos. Look for the new Greenbuild shipping containers located along the main aisle. Other contributors include: J Evans Construction, Andersen Windows, and Benjamin Moore.
The 2016 Greenbuild Expo will take place October 5 through the 6 at the Los Angeles Convention Center, Los Angeles, CA. Visit Pioneer Millworks in the Wood Pavilion, space #2324, to see more of their reclaimed wood products. Or contact them for information at info(at)pioneermillworks(dot)com.
About Greenbuild International Conference and Expo:
Greenbuild is the world's largest conference and expo dedicated to green building. The green building community gathers to share ideals and mutual passion at Greenbuild, sparking a contagious buzz throughout the week.
When industry leaders, experts and frontline professionals dedicated to sustainable building in their everyday work come together, the result is a unique and palpable energy. Participants are invigorated and inspired. They find themselves equipped to return to their jobs with a renewed sense of purpose.
About Pioneer Millworks:
Pioneer Millworks is the leader in the reclaimed wood industry. To date, they've rescued nearly 26 million board feet of old wood from rot and landfills, giving it new life as flooring, paneling, millwork, cabinetry, and more. All wood is manufactured in a way that's healthy for customers, employees, and the environment. Pioneer Millworks is FSC-certified and Green America approved. All of their products are LEED point eligible.