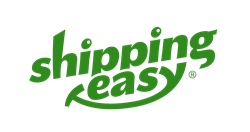 AUSTIN, Texas (PRWEB) November 04, 2021
ShippingEasy, the leading online shipping software solution for growing e-commerce merchants, today announced a new integration with Buy on Google, which allows shoppers to purchase products directly from retailers without leaving Google Search Results. The integration will automatically pull commission-free orders from Google directly into merchants' ShippingEasy platform, alongside their other integrated stores, where merchants can apply shipping rules, save with discounted USPS and UPS shipping rates, and batch print orders with ease.
"ShippingEasy is focused on giving small businesses the tools they need to succeed in e-commerce by giving them time and money back on their shipping," said Rob Zaleski, Brand Manager at ShippingEasy. "Our partnership with Google opens up a new avenue of merchants that ShippingEasy can help, as well as creates new opportunities for current ShippingEasy customers to expand their business within the platform they already use."
For small-medium size businesses, it's a critical time to invest in their online presence. According to a recent study by ShippingEasy, 65% of respondents said the pandemic made them more aware of small, local, and independent brands to support. Buy on Google makes it easy for online customers to find their favorite brands and buy products without leaving the search page and without charging retailers commission fees. The integration with ShippingEasy will allow merchants to ship orders quickly and easily, after automatically importing the orders from Google.
The new integration will be a win-win for both ShippingEasy and merchants using Google. The integration offers another selling channel for ShippingEasy's small-business merchants to increase product sales and brand awareness and allows Google to add thousands of new ShippingEasy merchants to its selling platform.
ShippingEasy customers can add Buy on Google to their integrations right away.
About ShippingEasy
Every day, tens of thousands of e-commerce retailers rely on ShipStation to solve the day-to-day challenges of importing orders and processing shipments. The trusted leader in shipping software since its founding in 2011, ShipStation helps online sellers scale their businesses and deliver exceptional customer experiences, with an intuitive online solution that allows them to efficiently ship orders -- wherever they sell and however they ship. The multi-channel and multi-carrier platform offers the most integrations of any e-commerce solution, with more than 300 partnerships with leading shopping carts, marketplaces, carriers and fulfillment services, including FedEx, USPS, UPS, Amazon, Shopify, and BigCommerce. ShipStation is headquartered in Austin, TX, with offices in Sydney and London. For more information, visit https://www.shipstation.com.