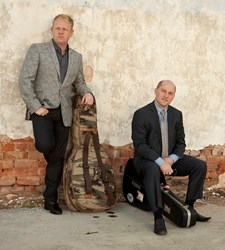 they're going to keep people's feet tapping and provide lots of great laughs, what better way to kick off the next year?
Shipshewana, IN (PRWEB) December 18, 2013
The Blue Gate Theater will kick off the New Year with its 9th Annual New Year's Eve Extravaganza. The two shows, one at 1pm the other at 9pm, will feature Grammy nominated, three-time IBMA Entertainer of the Year, Dailey & Vincent, Comedian Dennis Swanberg and Bluegrass Triplet Trio Red Roots.
"All the artists this year are outstanding," said Marketing Director Andy Rohrer, "they're going to keep people's feet tapping and provide lots of great laughs, what better way to kick off the next year?"
Dailey & Vincent is one of the top Bluegrass bands in America. From the very beginning of their partnership in late 2007, Jamie Dailey and Darrin Vincent quickly established themselves as fresh voices in their genre. The concoction of their fantastically powerful vocal blends, 4 award-winning studio albums, and heavy touring schedules has gained them well-deserved attention from bluegrass, country, and gospel critics and fans alike.
Dailey & Vincent has been recognized as 3-time IBMA Entertainer of The Year, 3-time IBMA Vocal Group of the Year, 2-time Grammy nominee, and Dove Award winners. Equally at home with material from any of the aforementioned genres, Jamie and Darrin continue to expand on the possibilities of what kinds of music can become "Dailey & Vincent" music.
The humor for the shows comes from Dennis Swanberg and if laughter is truly the best medicine, then Dennis Swanberg, America's "Minister of Encouragement" is just what the doctor ordered. Swanberg takes his side-splitting stories of growing up and over twenty signature impersonations together with the funny side of church, to over 250,000 people every year. He doesn't care who he's talking to, as long as he can leave knowing he made someone's day a little brighter.
The final slot on the program is Red Roots, a fiery redheaded bluegrass trio of triplets from Nashville. With a stage persona as bright as their blazing red locks, these triplets get the crowd's feet tapping with rolling banjos intertwined with rocking guitars. Through their onstage stories and twang rimmed harmonies there is a clear South Mississippi charm rooted in faith and family that makes them irresistibly fun to experience.
The Extravaganza includes dinner, the show and evening guests will enjoy a special countdown. The Blue Gate has even extended the celebration to their new hotel this year, the Blue Gate Garden Inn, with a special midnight buffet and countdown for guests not attending the show. Tickets start at $89 with hotel packages for couples starting at $285. Tickets and more information can be found online at BlueGateTheater.com or by calling the Blue Gate Box Office at 888.447.4725.
The Blue Gate Theater is located at 195 N Van Buren St, Shipshewana, IN 46565