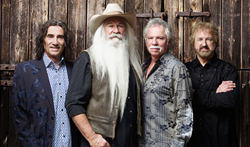 Visitors to the Blue Gate Theater in June will be treated to a little humor, a bit of country and a whole lot of gospel music.
Shipshewana, IN (PRWEB) May 28, 2014
Visitors to Shipshewana's Blue Gate Theater in June will be treated to a little humor, a bit of country and a whole lot of gospel music.
The highlight of the four-day theater extravaganza June 11-14 will be the return of The Oak Ridge Boys in a Friday night concert that's sure to be a sell-out.
The run begins on Thursday, June 11, when popular humorist and speaker Jeanne Robertson will entertain with personal stories told in her own brand of southern humor. Robertson, who hails from North Carolina, has been awarded every honor in her profession, including the top award in professional speaking, "The Cafett Award." She is a member of the Speakers Hall of Fame and recipient of the Toastmasters International's Golden Gavel Award. Most recently, the National Speakers Association honored Robertson with its 2012 Master of Influence Award. Robertson has produced seven humor DVDs and can be heard daily on Sirius/XM Radio's Family Comedy Channels.
Also returning for an encore visit at The Blue Gate on Friday, June 12, is the Jubilee group – Booth Brothers, Greater Vision, and Legacy Five. This combination of three of the biggest names in Southern Gospel played to sold-out audiences in 2013. This year's event promises another unforgettable evening of outstanding gospel music.
The Booth Brothers have been sharing their faith and their music full-time since 1998. These men get their musical influences from a wide range of performers – from the Eagles to the Gatlin Brothers to legendary Gospel greats such as Bill Gaither and Mosie Lister. The trio has made appearances on the Gaither Homecoming tour as well as on their own fairly heavy touring schedule over the last several years. They are known for their high energy and humorous yet touching concerts.
Since organizing in 1990, Greater Vision has been inspiring audiences with their rich vocal blend and their effective ability to communicate the message of the gospel. Over the years, Greater Vision has established a firm place at the pinnacle of Christian music and has become the most awarded trio in the history of Gospel music. The Singing News Magazine and the Southern Gospel Music Association have named Greater Vision Gospel Music's Favorite Trio. They have also received numerous honors for Song of the Year, Album of the Year, Video of the Year, and Artist of the Year. Greater Vision is heard by thousands of radio listeners, both on traditional Christian stations and via Internet radio. They are also seen regularly on the In Touch television program, hosted by Dr. Charles Stanley, and have also been featured on the Gaither Gospel Series.
Legacy Five was organized and had their official debut in 2000 in Atlanta, Georgia, and they have made a major mark on the Southern Gospel Music world. Audiences respond overwhelmingly to their four-part harmony and their ability to effectively communicate the message of Christ. Since the quartet's formation, they have established and maintained a firm place at the top of Christian music.
Legacy Five has enjoyed more success in their short career than many groups experience in decades. In their first ten years, The Singing News Magazine, Southern Gospel music's leading fan and trade publication, has nominated Legacy Five for some 75 Singing News fan awards. The Southern Gospel Music Association honored Legacy Five with Recording of the year and they have had 2 Dove Award nominations. Legacy Five has been featured on the Gaither and friends Homecoming Video series, which has sold multiple millions of copies worldwide. They have also appeared on In Touch, with Dr. Charles Stanley, as well as In Touch Ministries' sponsored cruises. The rich four and five part harmony that Legacy Five has become noted for are the result of a masterful weaving together of five unique and versatile talents.
Friday night, June 13, the stage will belong to The Oak Ridge Boys. The popular country and gospel band offers one of the most distinctive and recognizable sounds in the music industry. The four-part harmonies and upbeat songs of The Oak Ridge Boys have spawned dozens of country hits and earned them Grammy, Dove, CMA, and ACM awards and garnered a host of other industry and fan accolades. The Oaks bring three decades of charted singles and 50 years of tradition to bear in a stage show widely acknowledged as among the most exciting anywhere.
The group's hits include the pop chart-topper Elvira, as well as Bobbie Sue, Dream On, Thank God For Kids, American Made, I Guess It Never Hurts To Hurt Sometimes, Fancy Free, Gonna Take A Lot Of River and many others. They recently covered a White Stripes song, receiving accolades from Rock reviewers. They've scored 12 gold, three platinum, and one double platinum album, plus one double platinum single.
The Oaks represent a tradition that began with regular Grand Ole Opry appearances in the fall of '45. In the mid '50s, they were featured in Time magazine as one of the top drawing Gospel groups in the nation. Their career has spanned not only decades, but also formats. In 1977, Paul Simon tapped the Oaks to sing backup for his hit Slip Slidin' Away, and they went on to record with George Jones, Brenda Lee, Johnny Cash, Roy Rogers, Billy Ray Cyrus, Bill Monroe and Ray Charles.
The Oak Ridge Boys have appeared before five presidents and have become one of the most successful touring groups anywhere, still performing some 150 dates each year at major theaters, fairs and festivals across the U.S. and Canada. The Oaks' high-energy stage show remains the heart and soul of what they do, and they refine it several times a year, striving to keep it fresh. The group recently recorded a new CD, The Boys Are Back. The Oaks' new music has attracted the attention of a younger audience, while reminding dedicated fans that their favorite group is ever-evolving.
On Saturday night, June 14, The Blue Gate Theater welcomes back the popular Gaither Vocal Band. The band got its start in the early 1980s with four guys singing around a piano backstage before a Bill Gaither Trio concert. The list of men who have comprised the Gaither Vocal Band over the years includes Gary McSpadden, Steve Green, Lee Young, Jon Mohr, Larnelle Harris, Michael English, Lemuel Miller, Jim Murray, Mark Lowry, Terry Franklin, Buddy Mullins, Jonathan Pierce, David Phelps, Russ Taff, Guy Penrod, Marshall Hall and Wes Hampton. Always at the helm has been Bill Gaither, who has led the group out of his personal passion for great harmony and his genuine desire to bring meaningful music to a hurting world.
In January 2009, a reunion of Gaither Vocal Band alumni was released on DVD and immediately shot to the top of Billboard Magazine's Music Video charts for four consecutive weeks, and topped Christian and Southern Gospel audio charts.
"God is up to something here," Bill Gaither states of the current group. "I continue to be amazed at the extraordinary ways He communicates the power of the Gospel not only through our music, but through our lives. The simple messages I first started writing about as a wide-eyed, young musician hold truer to me today than ever before – and it truly is about much more than the music."
Tickets for all performances are available individually by calling 888-447-4725 or on their website at http://www.BlueGateTheater.com.