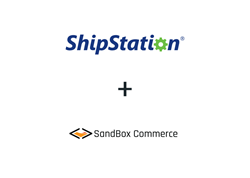 We are excited to partner with SandBox Commerce, and provide current and future ShipStation customers with the fast and cost-effective app building services SandBox Commerce offers
AUSTIN, Texas (PRWEB) September 19, 2018
ShipStation, the leading web-based e-commerce shipping solution, today announced its partnership with SandBox Commerce. SandBox Commerce helps ecommerce brands and retailers quickly and easily create and launch mobile shopping apps on iOS and Android platforms.
SandBox Commerce makes creating and launching native mobile applications simple and effortless for online retailers by pulling live inventory from their online stores and including that inventory in the app. Retailers can customize apps to match their brand through the drag-and-drop SandBox App Builder. SandBox Commerce's customer success team then helps launch the app to iOS and Android. Apps created using SandBox Commerce update in real time and include features such as instant, two-click checkout and push notifications to drive sales.
"SandBox Commerce is a fast way for online retailers to build apps for iTunes and Google Play App Stores. We're excited to introduce our platform to the ShipStation community and look forward to helping online retailers increase engagement with their shoppers," said Sterling Smith, Founder of SandBox Commerce.
ShipStation and SandBox Commerce's dedication to improving the bottom line for e-commerce retailers makes them great partners and complementary services for customers. The main goal of SandBox Commerce is to help retailers and brands drive sales through increased customer engagement. With increased sales comes a greater need for ShipStation's services that make shipping orders quick and efficient.
"We are excited to partner with SandBox Commerce, and provide current and future ShipStation customers with the fast and cost-effective app building services SandBox Commerce offers," said Robert Gilbreath, Chief Marketing Officer & VP of Partnerships, ShipStation.
About ShipStation
ShipStation is the leading web-based shipping solution that helps e-commerce retailers import, organize, process, and ship their orders quickly and easily from any web browser. ShipStation features the most integrations of any e-commerce web-based solution with over 150 shopping carts, marketplaces, package carriers, and fulfillment services. ShipStation's many integration partners include Jet, eBay, PayPal, Amazon, Etsy, BigCommerce, WooCommerce, Shopify Plus, Squarespace, Walmart, and Magento; along with carriers such as FedEx, USPS, UPS, Canada Post, Australia Post, Royal Mail, and DHL. ShipStation has sophisticated automation features such as automated order importing, custom best practice rules, product profiles, and fulfillment solutions that enable its users, wherever they sell and however they ship, to be exceptionally efficient at shipping orders. ShipStation is a wholly-owned subsidiary of Stamps.com (Nasdaq: STMP). For more information, visit http://www.shipstation.com.
About SandBox Commerce
SandBox Commerce provides e-commerce brands and retailers with a powerful set of tools to increase customer engagement through mobile applications. The company's revolutionary App Builder cuts down on development time and cost, while allowing users to customize and launch a mobile app to iOS and Android marketplaces within a week. SandBox Commerce was recognized for its product by winning the Shopify Expert Partner Accelerator in 2017. The company has been featured on Gimlet Media's podcast 'The Pitch' and was a winner of the 2016 "50 of Fire" at the Austin Inno awards. For more information, visit https://www.sandboxcommerce.com/.