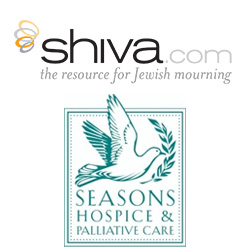 Shiva.com is a valuable resource that will provide our community a comprehensive understanding of the planning and mourning traditions observed by the Jewish faith
Miami, FL (PRWEB) March 30, 2016
Leading Jewish bereavement and grief support website shiva.com announces that it has partnered with Seasons Hospice, the fifth largest hospice company in the U.S., expanding its network of partners and bringing information and resources to the more than 23,000 patients and families that Seasons serves annually.
Shiva.com's Learning Center provides guidance relating to grief, coping and bereavement, as well as informs individuals and organizations about the traditions surrounding Jewish mourning and shiva, in particular with sending sympathy gifts that are customarily appropriate during the ritual of "shiva", which begins following the loss of a family member. "Our team looks forward to working with Seasons Hospice & Palliative Care to give an easy-to-use and complete set of Jewish mourning tools and resources," says Michael Schimmel, CEO and founder of shiva.com. "Through this collaboration, we can provide the patients' families and their caregivers streamlined resources to prepare for and cope with difficult times." Shiva.com created a customized Grief Support Center for Seasons containing information and guidance on bereavement and loss.
Seasons' mission is "Honoring Life ~ Offering Hope", which is accomplished by finding creative solutions which add quality to life and recognizing that individuals and families are the true experts in their own care. "Shiva.com is a valuable resource that will provide our community a comprehensive understanding of the planning and mourning traditions observed by the Jewish faith," says Todd Stern, CEO of Seasons Hospice. "These tools correspond with Seasons' values of putting our patients at ease through family members, caregivers, and staff gaining knowledge of culturally significant rituals."
This new partnership continues the expansion of shiva.com's network of hospices, grief centers, media outlets, and nonprofit organizations dedicated to provide the most qualified resources on Jewish mourning and sympathy.
About Seasons
Seasons Hospice & Palliative Care was founded in the 1997 and is headquartered in Rosemont, IL. Seasons is the fifth largest hospice company in the U.S. and operates 25 Medicare-certified facilities across 18 states. For more information on Seasons please visit http://www.seasons.org/page/Home
About shiva.com
Shiva.com provides an easy-to-use, efficient resource to help family members, friends, colleagues and acquaintances honor the passing of loved ones. The site carefully blends centuries-old religious traditions with modern-day customs to help support, communicate and mourn. Shiva.com offers information as well as guidance about appropriate items to send and words to express condolences in a respectable and understanding way. For more information on shiva.com please visit http://www.shiva.com/
©2016 shiva.com, LLC. All rights reserved. shiva.com and the shiva.com logo are trademarks of shiva.com, LLC.