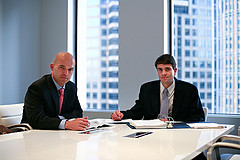 A presentation that fails to speak to the listener's most important questions, will never fully connect with the audience. -Alan Hamilton
Atlanta, GA (PRWEB) April 16, 2014
Alan Hamilton, co-founder of the Atlanta-based personal injury law firm Shiver Hamilton, addressed the New Lawyers Division of the Georgia Trial Lawyers Association during a "Lunch and Learn" seminar held at the State Bar in downtown Atlanta on March 20, 2014. Attorneys L. Chris Stewart and Arman Deganian also spoke at the event.
During the seminar, Hamilton shared his insights and expertise in trial strategy and tactics, and addressed the challenges of presenting a personal injury case in conservative counties where juries are likely to hold preconceived, stereotypical views of personal injury cases and attorneys. He discussed a recent seven-figure jury verdict won by Shiver Hamilton, in which the defense offered a $40,000 settlement, believing that the "conservative" jurors of the county would not award a significant amount to the plaintiff.
Hamilton discussed the importance of addressing big-picture questions a jury brings to the courtroom, based on juror community values and experience. A presentation that fails to speak to the listener's most important questions, he said, will never fully connect with the audience.
Hamilton also shared tips and strategies for emphasizing the important role the civil justice system plays in righting wrongs, and for establishing credibility through an efficient, honest presentation of the client and the case.
About Alan Hamilton
Alan Hamilton has dedicated his career to representing victims of negligence and corporate wrongdoing. His law practice focuses on catastrophic personal injury cases, wrongful death, and business torts. He is also experienced in cases involving automobile accidents, product liability, premise liability and workplace injuries. He has been honored as a "Super Lawyer" by Atlanta magazine, a member of the state's "Legal Elite" by Georgia Trend magazine, and a "Top 40 Under 40" attorney by the National Trial Lawyers Association and by the American Society of Legal Advocates. He has also been honored as a "Georgia Rising Star" by Super Lawyers in 2007, 2009, 2010, 2011, 2012 and 2013.
About Shiver Hamilton
Shiver Hamilton is an Atlanta, Georgia-based personal injury firm specializing in significant personal injury cases, including negligent security, trucking, premise liability and representation of victims of rape or sexual assault. Shiver Hamilton provides its services free of charge unless the victim recovers compensation. To learn more about the firm, please visit http://www.shiverhamilton.com or call 404–593–0020.