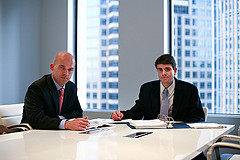 Atlanta, GA (PRWEB) May 15, 2014
Shiver Hamilton, an Atlanta-based personal injury law firm, recently settled a lawsuit against one of the nation's largest trucking companies, obtaining a settlement 15 times the amount of the client's medical bills. Because the settlement was confidential, the names of the parties are being withheld.
The complaint, which was filed in the State Court of DeKalb County, Ga., alleged that the defendant, a tractor-trailer driver, struck the plaintiff while the defendant was driving the company tractor-trailer. According to the lawsuit, the driver's blood alcohol limit was above the legal limit for tractor-trailer drivers. The defendant testified that he consumed straight gin before getting into the truck, which he was using as a personal vehicle after completing a delivery.
The trucking company filed four separate motions for summary judgment, asking the court to dismiss the case. The judge issued orders that denied all four motions.
In its Answer to Plaintiff's Complaint, the trucking company initially denied knowing that the driver had taken the truck home after his delivery. Shiver Hamilton subpoenaed documents that proved that the company not only knew the driver had the truck at home, but that he was using the vehicle on weekends for personal use. Shiver Hamilton also consulted industry specialists who were prepared to testify that the trucking company violated federal regulations by failing to properly evaluate the driver's employment and driving history.
The company offered an initial settlement, which Shiver Hamilton declined. Just as the firm was preparing to take the case to a jury trial, the company substantially increased its offer, and Shiver Hamilton settled the case for an amount that represented 15 times the medical bills relating to the wreck.
About Shiver Hamilton:
Shiver Hamilton is an Atlanta, Georgia-based personal injury firm specializing in significant personal injury, motor vehicle crashes, tractor trailer crashes, premise liability and representation of victims of rape or sexual assault. Shiver Hamilton provides its services free of charge unless the victim recovers compensation. To learn more about the firm, please visit http://www.shiverhamilton.com or call 404–593–0020.