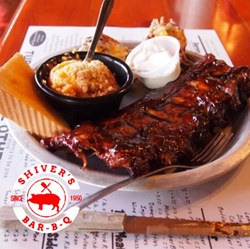 HOMESTEAD, Fla. (PRWEB) August 30, 2019
Residents of Homestead and Miami, Fl have known for years about the "not so hidden" gem that is Shiver's BBQ. This year, Shiver's BBQ has been selected as one of five nominees for Best Florida BBQ Restaurant in Southern Living's South's Best 2020.
Southern Living is currently searching for the South's Best, in multiple categories and locations, by way of an online reader's poll. The feature will run in the Southern Living magazine sometime in the spring. Voting is now open and will run through September 16, 2019.
You can register your vote for Shiver's BBQ at Southernliving.com.
Shiver's BBQ is a family-owned and operated restaurant in Homestead, Fl. Shiver's has been serving authentic hickory smoked barbecue for over 65 years! Shiver's specializes in slow smoked meats such as baby back ribs, pork spare ribs, beef ribs, chicken, beef brisket, and pork.