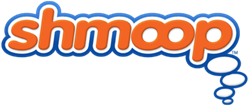 LOS ALTOS, Calif. (PRWEB) November 27, 2018
Keeping up with the news these days can be a real downer. Destructive wildfires, gun violence, political spats, and tons of other not-so-uplifting stories dominate the headlines. But just a click away (or a page turn away, for those who haven't fully joined the digital world yet) is always an example of generosity and kindness.
Okay, sometimes two clicks away. But it's there.
There are big-name celebs—from Oprah to Bill Gates to Chance the Rapper and more—who use their fame to support good causes and back it up with generous charitable donations. Fame and fortune aside, there are people who make a difference in their communities every day without needing a whole foundation in their name or any media coverage. The giving spirit is also alive and well in the fictional world, where characters have the unfair advantage of never running out of fake money to donate.
Shmoop (https://www.shmoop.com), a digital publishing company known for its award-winning test prep and online courses, is taking a break from all the doom and gloom of the real world to shine a spotlight on some of the most giving fictional characters from literature and movies. Here is their shortlist:
George Bailey, from It's a Wonderful Life
This guy has an impressive track record of putting others before himself. As a kid, he jumped into a frozen pond to save his little brother; as a young man, he put his travel and college dreams aside to run the family business and send his brother to college; and as a still-young-but-slightly-older man, he used his own honeymoon cash to save their business and help out the town. Needless to say, George seriously earned the generosity that comes back his way in the end.
Grandpa Joe, from Charlie and the Chocolate Factory
Grandpa Joe is GGOAT—Greatest Grandpa of All Time—and a perfect example of what Giving Tuesday is all about. He's the total opposite of wealthy, but he still finds a way to scrape together a few coins so his grandson Charlie can buy a chocolate bar and have a shot at winning a Golden Ticket and a trip to Wonka's chocolate factory. (And he obviously does win, or else this story would just be "Charlie and the Regular, Average Chocolate Bar.") Just goes to show that it's not about the size of a donation; it's about the thought behind it.
Ebenezer Scrooge, from A Christmas Carol
To be clear: Scrooge is not exactly a role model until the very end of this classic Dickens story. Pretty much the opposite, in fact. But after a terrifying night full of ghosts and super depressing stories, he's a changed man. He reconnects with family, donates a ton of his riches to charity, and generally goes on to be a generous and compassionate dude.
The Tree, from The Giving Tree
Depending on how this book is read, The Giving Tree can be everything from a tender childhood tale of love and generosity to a disturbing chronicle of a dysfunctional, abusive relationship. On Giving Tuesday especially, Shmoop prefers the former.
These fictional characters are what Giving Tuesday is all about: giving back and donating money, time, or talent to a good cause.
Back in the real world, Shmoop is proud to work with DonorsChoose.org, where individuals can donate directly to a classroom in need. For those who made it to the other side of Black Friday and Cyber Monday shopping sprees with some change to spare, learn more here about how to donate a premium Shmoop subscription through DonorsChoose.org.
About Shmoop
Shmoop offers hundreds of thousands of pages of original content. Their Online Courses, Test Prep, Teaching Guides, Learning Guides, and interactive Study Tools are written by teachers and experts and balance a teen-friendly, approachable style with academically rigorous concepts. Shmoop sees 16 million unique visitors a month across desktop and mobile. The company has won numerous awards from EdTech Digest, Tech & Learning, and the Association of Educational Publishers. Launched in 2008, Shmoop makes the magic happen from a labradoodle-patrolled office in Los Altos, California.