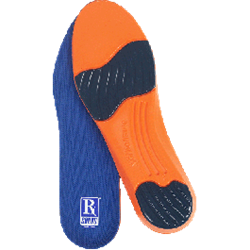 Athletes with intense work-out regimes can develop lower-leg inflammation, a condition commonly known as shin splints.
Chicago, IL (PRWEB) February 26, 2016
RxSorbo, a leading online retailer of top-rated shoe insoles, is pleased to announce the availability of a new informational page on shin splints, including a guide to how find the proper insoles for pain relief.
"Athletes with intense work-out regimes can develop lower-leg inflammation, a condition commonly known as shin splints," explained Rj Yozwiak, Manager of RxSorbo. "While a hands-on examination from a doctor is needed to determine a course of treatment, it is often the case that shoe insoles for pain relief can be an important part of the treatment of this common ailment."
To learn more about insoles for pain relief for shin splints, please visit http://www.rxsorbo.com/rx-blog/foot-ailments-shin-splints. Note that the shoe insoles can also be purchased on Amazon at https://www.amazon.com/s?me=A3JAYEX82BUHD7 as well as on the RxSorbo.com website. On the Amazon website, directly, RxSorbo has over 71 positive ratings on customer satisfaction with the shoe insoles, with many comments and feedback posts indicating use against shin splints.
MORE ON SHIN SPLINTS AND SHOE INSOLES
The first step is of course correctly identifying the condition, so to help those with questions on the topic RxSorbo has an updated information page on the topic. Here one can find answers to questions about the symptoms of the syndrome and how insoles for pain relief can play a part. Shin splint pain is felt along the large bone in front of the lower leg, or the shinbone. People suffering from shin splint pain will notice inflammation and in the lower leg and the inner part of the lower leg will feel sore. Individuals with flat feet or high arches are at risk as well. While there is no permanent method for "curing" shin splin, the condition can be managed, and the body allowed to heal itself. Options recommended by a physician may include compression socks, shoes with good orthotics, and correct shoe insoles for pain relief.
Developed by a Materials Scientist to mimic human flesh - Sorbothane® is a one-of-a-kind visco elastic polymer. 100% unique - Sorbothane® is a solid that naturally "flows" like a liquid - Sorbothane® absorbs impact shock and provides comfort better than any other insole material available today.
About RxSorbo
RxSorbo is the source for Sorbothane® Shoe insoles (shoe inserts). Sorbothane® uniquely absorbs up to 94.7% of impact shock, and makes for quality shoe insoles for many conditions. People come to RxSorbo for shoe insoles for foot maladies from Plantar Fasciitis to Morton's Neuroma to metatarsalgia to many other conditions. From Shoe inserts for running to top-rated insoles for dress shoes to gym shoes, reviews of the company's shoe insoles prove they are among the best shoe insoles.
RxSorbo
http://www.rxsorbo.com/