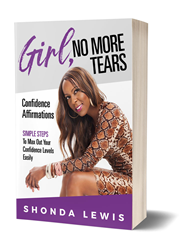 "Affirmations are beneficial...however they have to be used correctly"
COLUMBUS, Ohio (PRWEB) July 30, 2020
"Girl, No More Tears"
"An eBook on attracting and manifesting the lifestyle you want with the life you were given"
Award-winning sales coach and motivational speaker Shonda Lewis has announced the release of her first book "Girl, No More Tears" --a book filled with affirmations and motivational techniques to manifest the lifestyle you want. The book is available in digital format on her website ShondaLewis.com and will be released in paperback this fall.
"Girl, No More Tears" is beneficial to any woman needing a boost and teaches readers how to create effective changes in their life by implementing simple tools and tips in their everyday activities. This self-published book is an easy read filled with 51 pages of powerful messages and affirmations to encourage women to believe in themselves.
"I took advantage of the free-time I was afforded during quarantine to really evaluate my circumstances and the amazing life that I manifested. I came into contact with so many women that were falling into a depression during quarantine or found themselves facing a new normal that they didn't know how to adjust to. I simply compiled my knowledge of affirmations and manifestation into a book that was easy and quick to understand and implement for the everyday woman."
"Girl, No More Tears" is available for only $4.99 on http://www.shondalewis.com and will be transformed into a multi-series webinar this summer and will include virtual activities and one-on-one time with Shonda Lewis to assist participants with implementing the law of attraction and motivating them to take charge of their life.
ABOUT SHONDA LEWIS: Shonda Lewis is the award-winning Sales Coach of the Shonda Lewis Group and creator of the Arnold International Model Search, formerly known as the RockStar Bikini International Model Search, of the annual Arnold Sports Festival. Lewis has been featured on "The Tyra Banks Show", Essence Magazine, and the first black, female business owner on "Millionaire Matchmaker".
Contact: Shonda Lewis
Phone: 614.374.4437
Email: Shonda@ShondaLewis.com