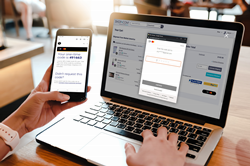 GREENSBORO, N.C. (PRWEB) January 09, 2020
SHOP.COM, Market America's award-winning, global e-commerce platform providing online shoppers access to approximately 300 million products, including Market America exclusive brands, is one of the first online merchants offering US consumers a new, more convenient and secure way to checkout when purchasing products.
In addition to this new checkout option, Mastercard cardholders who shop on SHOP.COM can expect to have exclusive access to special discounts and savings opportunities in 2020 and beyond. These same benefits and exclusive promotions are also available to all SHOP.COM distributors, known as UnFranchise Owners, as well as their customers.
SHOP.COM customers can look for an arrow symbol next to the Mastercard logo at checkout and click to pay where Mastercard is accepted for a smarter guest checkout experience. This new checkout feature makes purchases on SHOP.COM – from Valentine's Day gifts to birthdays as well as everyday household needs – smarter, simpler and safer. This replaces laborious key-entry guest check-out with fewer steps where shoppers do not have to create and remember static passwords.
Powered by Market America's industry-leading technological innovations, SHOP.COM continuously ranks among the largest and most dynamic online marketplaces in the world—generating its fair share of the almost $3.5 trillion global consumers spent shopping online in 2019. It is, without a doubt, one of the most consumer-focused online marketplaces.
In addition, SHOP.COM rises above the competition with its rich rewards programs for consumers. These include the Shopping Annuity, which empowers online shoppers to convert their spending into earning, its Cashback Program, which has, to date, paid over $45 million in cashback on most purchases made through the site as well as a host of other SHOP.COM features and programs. No other e-commerce site is as committed to consumers as SHOP.COM; this latest Mastercard collaboration demonstrates that SHOP.COM is the most rewarding shopping experience on the web.
About Market America | SHOP.COM
Market America is a global product brokerage and internet marketing company that specializes in one-to-one marketing and is the creator of The Shopping Annuity. Its mission is to provide a robust business system for entrepreneurs, while providing consumers a better way to shop. Headquartered in Greensboro, NC and with locations in eight countries, including the US, Market America was founded in 1992 by Chairman and CEO JR Ridinger and has generated over $9 billion in accumulated sales. Through the company's primary shopping website, SHOP.COM, consumers have access to approximately 300 million products, including Market America exclusive brands and thousands of top retail brands. SHOP.COM ranks 11th in Newsweek Magazine's 2020 Best Online Shops. SHOP.COM ranks #36 on Internet Retailer's World's Largest Online Marketplaces, #12 in the 2019 Internet Retailer Primary Merchandise Category, #65 in the 2018 Internet Retailer Top 500, #96 in the Internet Retailer Asia 500 and #18 in 2017's Internet Retailer Mobile 500. The company is also a two-time winner of the Better Business Bureau's Torch Award for Marketplace Ethics and received 2019's Triad Business Journal's "Fast 50" award as one of the top privately-held companies for sustained growth, driving the area's economy. By combining Market America's entrepreneurial business model with SHOP.COM's powerful comparative shopping engine, Cashback Program, Shopping Essentials, SHOPBuddy® Express Pay check out, social shopping integration and countless other features, the company has become the ultimate online shopping destination.
For more information: Marketamerica.com