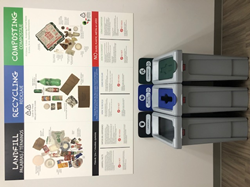 "This is just one of many sustainability initiatives from Shop LC," says Michelle Long, Director of Corporate Social Responsibility. "We love that we are making an impact to improve the planet and can help other businesses do the same. Since we've done the work, why not share it."
AUSTIN (PRWEB) March 23, 2021
Shop LC has recently launched a new program to include recycling and composting at its US based headquarters.
The Austin-based home shopping channel and ecommerce site is partnering with Waste Management for single-stream recycling, and Break-It Down Austin for composting for approximately 600 employees. All employees receive training on how to recycle and compost. New bi-lingual signage across the campus directs employees to rethink, reduce, reuse, and recycle; Shop LC is making their signage and training available free for any business wanting to step up their own efforts.
"This is just one of many sustainability initiatives from Shop LC," says Michelle Long, Director of Corporate Social Responsibility. "We love that we are making an impact to improve the planet and can help other businesses do the same. Since we've done the work, why not share it."
Businesses can contact michelle.long@shoplc.com at Shop LC to receive more info about the program and the signage.
About Shop LC
Headquartered in Austin, Texas, Shop LC, is a wholly owned subsidiary of Vaibhav Global Ltd. (VGL), a vertically integrated company with global sourcing and manufacturing capabilities. Shop LC is a value-conscious, interactive retailer focused on the fine jewelry, beauty, fashion, home decor and lifestyle product categories. Established in 2007, Shop LC reaches approximately 80 million U.S. households via high-definition programming offered live 24 hours a day, seven days a week, 365 days a year. For more information visit shoplc.com and download the interactive app on the App Store, Google Play or many other streaming devices or televisions.