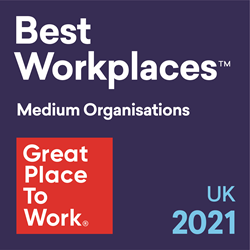 "We are extremely proud of our achievement this year. We have worked hard to create a workplace where our people feel supported and happy to come to work. Wellbeing is always at the forefront."
LONDON (PRWEB) May 17, 2021
The exceptional diversity and equality are just some of the reasons why employees love working for Shop TJC Ltd – even during a global crisis! Despite an incredibly challenging year for businesses the world over, Shop TJC Ltd was able to sustain their award-winning culture of fairness and employee wellbeing, ultimately achieving a ranking on the 2021 UK's Best Workplaces™ list (in the medium category) published by Great Place to Work® UK.
Shop TJC Ltd is among the 183 UK-based organisations recognised by its employees as an organisation that promotes a healthy workplace culture through trust, pride and camaraderie during the Covid-19 pandemic.
Shop TJC Ltd has been now been recognised 3 years in a row, raising their score 11 places from last year to this year.
Head of Human Resources, Kasuni Gankanda said, "We are extremely proud of our achievement this year. We have worked hard to create a workplace where our people feel supported and happy to come to work. Wellbeing is always at the forefront."
Understanding the perspective of employees is key to building a successful workplace environment. To determine an organisation's ranking, Great Place to Work® administers their comprehensive employee survey which represents 3/4 of an organisation's final score. The remaining quarter of the score comes from the Culture Audit® - a business-driven questionnaire that uncovers and evaluates the organisation's HR and leadership practices, policies and culture.
About Shop TJC
Headquartered in London, UK, Shop TJC is a wholly owned subsidiary of Vaibhav Global Ltd. (VGL), a vertically integrated E-retailer with global sourcing and manufacturing capabilities. Shop TJC, through its E-retailing in UK is specialised in jewellery, home, beauty, fashion, gemstones, and other lifestyle accessories. Established in 2006, Shop TJC reaches ~25 million UK households via live Television shows 24 hours a day, seven days a week, 365 days a year. For more information visit http://www.tjc.co.uk and download the interactive app on iTunes, Google Play and many other streaming devices or television.