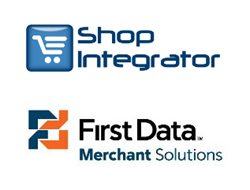 It's our goal to make card acceptance simple, secure, reliable and innovative.
Harpenden, UK (PRWEB) January 09, 2014
Ecommerce solution provider ShopIntegrator today announced that it has entered into an agreement with First Data Merchant Solutions, First Data's direct-to-market payment acceptance business, for the provision of the ShopIntegrator's shopping cart services to customers of First Data Merchant Solutions. ShopIntegrator's shopping cart checkout now connects to First Data Merchant Solutions card acceptance services, offering merchants a choice of leading payment gateways to connect to.
ShopIntegrator is a hosted ecommerce solution that is ideal for small to medium sized business including start-ups and cottage industries. It provides a PCI compliant, cost-effective and reliable shopping cart and checkout solution that is easy to use and simple to integrate into any website.
Simon Horton, Business Development Director at ShopIntegrator, stated "Working with First Data Merchant Solutions and integrating with First Data's payment gateway services ensures that the merchants using our hosted shopping cart solution have a wide choice of payment acceptance services beyond that of just their business banking provider."
Raj Sond, General Manager of First Data Merchant Solutions, added "We are delighted to be helping ShopIntegrator achieve its objective of delivering added value to its members. First Data has been in the UK for over 20 years, and it's our goal to make card acceptance simple, secure, reliable and innovative."
About First Data:
Around the world, every second of every day, First Data makes payment transactions secure, fast and easy for merchants, financial institutions and their customers. First Data leverages its vast product portfolio and expertise to drive client revenue and profitability. Whether the choice of payment is by debit or credit card, gift card, cheque or mobile phone, online or at the checkout counter, First Data takes every opportunity to go beyond the transaction.  More information about the company is available on FirstData.com as well as on Twitter, LinkedIn, Facebook and YouTube.
About ShopIntegrator:
Established in 2004, ShopIntegrator provides SMEs with secure, easy-to-use hosted shopping cart software. ShopIntegrator's competitive pricing and straightforward installation process allows merchants to turn their website into an online store within a matter of minutes. McAfee Secure and PCI compliant, ShopIntegrator's shopping cart is compatible with most websites so there is no need to change web hosting companies.
ShopIntegrator is a powerful e-commerce and m-commerce checkout. There is no software to install and its uncomplicated, no cost set-up requires little technical knowledge and can be added into HTML website templates or DIY site builders such as Weebly, Moonfruit, Yola, Webnode, 1&1 MyWebsite, Basekit, Webs and Vistaprint. ShopIntegrator also has dedicated plug-ins to simplify adding ecommerce into popular Content Management Systems (CMS) such as WordPress, Drupal and DotNetNuke (DNN).