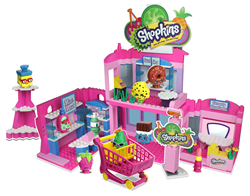 With Kinstructions, kids can design their own Shopkins characters, creating a whole new dimension of play for the brand by mixing up and customizing the buildable character figures.
Boca Raton, FL (PRWEB) December 01, 2015
Shopkins™, the super cute, super tiny collectibles that kids are going crazy for, have been reimagined into a new line of licensed construction and activity toys by leading toy company, The Bridge Direct. The Shopkins C3 Kinstructions line is designed to let kids build the world of Shopkins with multiple-piece construction sets that are compatible with all major construction brands, as well as create their own Shopkins characters by mixing and matching pieces. Additionally, the company's all-new line of Shopkins "doodle on" activity toys feature favorite Shopkins characters as plush and take-along fashion bags that kids can decorate, design and color. The Shopkins C3 Kinstructions line will be available only at Toys"R"Us, while the new activity toys will be offered at retailers nationwide.
"Shopkins is one of the fastest growing toy brands today, and we are excited to be a part of this global phenomenon," said Jay Foreman, CEO of The Bridge Direct. "Our Shopkins C3 Kinstructions building sets and Shopkins activity products promote hands-on and minds-on play, while still fitting with the Shopkins collectible play pattern. With Kinstructions, kids can design their own Shopkins characters, creating a whole new dimension of play for the brand by mixing up and customizing the buildable character figures."
"Licensing partners like The Bridge Direct are key to Shopkins' evolution as a children's lifestyle brand," said Paul Solomon, CEO Moose Toys. "This holiday season, we're eager to expand into the construction and activity aisle with products that encourage imaginative play and active engagement with kids' favorite Shopkins characters."
Shopkins C3 Kinstructions
The Shopkins world has been recreated as buildable and customizable figures and playsets with Shopkins C3 Kinstructions, a new construction line that encourages basic building and structural-solving skills, creativity and innovation. Now kids can build all their favorite Shopkins environments – from the Supermarket to the Bakery to the Beauty Salon – and create their own unique Shopkins figures by mixing and matching pieces. In addition, the line includes popular Shopkins characters from Season 1, such as "Strawberry Kiss" and "D'LIsh Donut."
The Shopkins C3 Kinstructions line is available exclusively at Toys"R"Us stores nationwide and online at ToysRUs.com. Suggested retail prices for the Shopkins C3 Kinstructions playsets range from $5.99 to $34.99 (MSRP) Recommended for Ages 6+.
Shopkins Activity Toys
The Bridge Direct's new line of Shopkins activity toys feature popular Shopkins characters recreated as draw-wash-redo plush toys and take-along fashion bags. The activity plush line features three sizes of cotton fabric-stuffed figures designed to be doodled on with washable markers that let kids decorate, design and color their favorite Shopkins friends, then wash and redo them all over again. The designable line of activity purses and bags puts a fashion-forward twist on the brand and reinforces its shopping theme, while encouraging kids to express their own style.
The activity toys are available now at Toys"R"Us stores and other major retailers. Suggested retail prices for the activity toys range from $5.99-$15.99 (MSRP). Recommended for Ages 5+.
About Shopkins
Shopkins, by Moose Toys, hit retail shelves in June 2014 instantly exceeding sales expectations and has now sold over 100 million Shopkins characters globally. The results have been outstanding with product flying off shelves and selling out in stores nationwide in a matter of weeks and online in as little as 24 hours. As a result, retailers are scrambling to secure stock, with retailers doubling their orders and flying product in to meet demand. The Shopkins' tag line of "once you shop, you can't stop" seems to be translating into reality.
In addition to the brand's retail success, the Toy Industry Association of America (TIA) awarded the Shopkins Small Mart Playset the coveted Toy of the Year Award for Girls Toy of the Year 2015.
Shopkins are the super cute, miniature, grocery and fashion themed collectibles sold with adorable shopping bags and baskets. With over 500+ million views on Shopkins YouTube webisodes and fan videos, Shopkins is shaping up to be Moose's biggest brand ever.
About Moose Toys
Moose Toys is a global toy company with offices in the US, UK, Hong Kong and the head office based in Melbourne, Australia. This award-winning company is known for designing, developing and distributing toy and lifestyle products across the globe for children of all ages and the young at heart. Moose has products in all toy categories including collectibles, arts and crafts, activity toys, dolls, novelty items and outdoor products, and has brought joy to kids worldwide with successful products such as Mighty Beanz, Beados, Aqua Sand and The Trash Pack™. In 2015, Moose expanded several major product lines for boys and girls, including Shopkins™, the hottest girl's collectible line of grocery-themed characters; Little Live Pets, electronic pets that come to life in the palm of your hand; as well as line extensions for Beados craft activity sets. The company also introduced Qixels, the first "craftstruction" activity that allows kids to create pixelated worlds of monsters, warriors and more. Visit http://www.moosetoys.com for more information.
About The Bridge Direct, Inc.
The Bridge Direct, Inc. is a global children's consumer product company that designs, manufactures and distributes a wide range of toys based on top entertainment licenses and proprietary brands. The company's products include: WWE and NBA construction toys; Inkoos™ draw, wash and redo activity plush; Strand Bands™ DIY fashion accessory kits; Strawberry Shortcake™ dolls and playsets; Flying Heroes airborne superhero figures; and new editions of classic toys from the company's Basic Fun division including Lite-Brite®, View-Master® and Fisher-Price Classics®. To find out more about The Bridge Direct, please visit http://www.thebridgedirect.com or follow the company on Facebook at http://www.facebook.com/TheBridgeDirect.
© 2015 The Bridge Direct, Inc. All rights reserved.