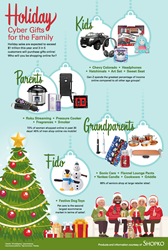 "Shopko's cyber event is one of the best shopping times of the holiday season," said Russ Steinhorst, Shopko chief executive officer. "Customers will enjoy discounts on popular items with the convenience of same day, in-store pickup or free shipping to their homes."
GREEN BAY, Wis. (PRWEB) November 20, 2018
With consumers looking for the convenience of shopping online this holiday season, Shopko will offer Black Friday doorbuster and Cyber Monday deals at Shopko.com. Black Friday doorbusters start online Tuesday, Nov. 20, at midnight. Cyber Monday deals run Nov. 25-26, where customers can receive 15 percent off all purchases and free shipping with the promotion code CYBERDEALS.
"Shopko's cyber event is one of the best shopping times of the holiday season," said Russ Steinhorst, Shopko chief executive officer. "Customers will enjoy discounts on popular items with the convenience of same day, in-store pickup or free shipping to their homes."
CNN Money reported that Black Friday 2017 online shoppers spent a record high of $5 billion in only in 24 hours, and Cyber Monday sales were predicted to exceed that amount. As online shopping becomes more common around the holidays, Shopko provides a variety of deals on name-brand items like Hatchimals, Yankee Candle®, Roku and more to help customers find the perfect gift for every family member.
For all Shopko customers this season, there are advantages to shopping online, including:

Shoppers can choose to buy online and select in-store pickup to receive purchases the same day and save on shipping.
New this year, customers can receive text alerts for when orders are ready for pickup.
Shoppers instantly receive electronic gift cards via email when ordering online.
During the holiday season, exclusive coupons will be available on RetailMeNot and can be used in-store via mobile devices and online.
Shopko was named one of WalletHub's top 10 retailers on its 2018's Best Stores for Black Friday list and for having one of the best Black Friday deals on furniture and consumer packaged goods.
In September, Shopko launched the new Shopko Rewards (SM) Loyalty Program. This holiday season marks the first major shopping event where customers can now receive 3 percent back in rewards.
Sign up for Shopko emails to get information on all the doorbusters and cyber deals, and follow Shopko at Facebook.com/Shopko.
###
About Shopko
Shopko is owned by an affiliate of Sun Capital Partners, Inc., a leading private investment firm focused on leverage buyouts, equity, debt, and other investments in market-leading companies. 
Founded in 1962 and headquartered in Green Bay, Wisconsin, Shopko Stores Operating Co., LLC is a $3 billion retailer that operates more than 370 stores in 26 states throughout the Central, Western and Pacific Northwest regions. Retail formats include 126 Shopko stores, providing quality name-brand merchandise, great values, pharmacy and optical services in small to mid-sized cities; five Shopko Express Rx stores, a convenient neighborhood drugstore concept; six Shopko Pharmacy locations; two Shopko Optical locations and 234 Shopko Hometown stores, a smaller concept store developed to meet the needs of smaller communities. For more information, visit http://www.shopko.com.
Infographic for web use can be downloaded here.
Infographic for print use can be downloaded here.
Shopko welcomes media to its stores during holiday shopping. To coordinate an interview or b-roll shooting at your local Shopko or Shopko Hometown, please contact Michelle Hansen at 920-429-4054 or michelle.hansen(at)shopko.com
Contact:
Michelle Hansen
Shopko Public Relations
920-429-4054
michelle.hansen(at)shopko.com