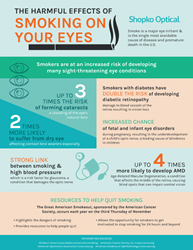 GREEN BAY, Wis. (PRWEB) November 18, 2021
For Great American Smokeout®, sponsored by the American Cancer Society, Shopko Optical is sharing important information to keep eye safety a priority when it comes to smoking. Through its guide, Shopko Optical hopes to equip smokers with the knowledge and resources to make informed decisions based on the dangerous impacts smoking causes on eyes.
"Smoke is a major eye irritant and according to All About Vision, smoking is the single most avoidable cause of disease and premature death in the U.S.," said Russ Steinhorst, CEO of Shopko Optical. "We are dedicated to reducing the contributing number of smoking-related eye injuries by educating smokers on the detrimental effects this habit has on the eyes."
Promoting its "The Harmful Effects of Smoking on Your Eyes" guide, Shopko Optical provides facts and statistics on sight-threatening conditions as follows:

Higher risk of glaucoma, damaging the optic nerve
Up to three times the risk of forming cataracts
Increased chance of fetal and infant eye disorders during pregnancy
Up to four times more likely to develop age-related macular degeneration (AMD), affecting the middle of the retina
"We fully support American Optometric Association's guidelines to avoid a myriad of health problems from smoking," said Steinhorst. "Even secondhand smoke causes life-altering effects on the eyes so it's important to protect yourselves and others."
Common eye injuries from smoking and secondhand smoke range from minor eye itchiness, redness, and watery eyes to serious injuries such as diabetic retinopathy, uveitis disease, and blindness.
"We hope that these guidelines will help shine a light on the damaging eye injuries caused by smoking," Steinhorst said. "Ultimately, we encourage those to take that first step in their journey to a smoke-free life."
To learn more about Shopko Optical's work to protect your vision from smoke, visit shopko.com/smokeout. To learn more about the impacts of smoking and secondhand smoke on the eyes, visit aoa.org.
About Shopko Optical
Shopko Optical, the trade name of Shoptikal LLC, is an affiliate of Monarch Alternative Capital LP. For more than 40 years, Shopko Optical has provided excellent patient-centric care and high-quality eyewear through its dedicated team of nearly 700 optometrists (independent doctors of optometry in IA, ID, MT, SD and WA) and opticians. Shopko Optical expects further growth in 2021 and beyond. For more information, visit Shopko.com.
For More Information, Contact:
Tricia Schwartz
Public Relations Strategist, Element
tricia (at) goelement (dot) com